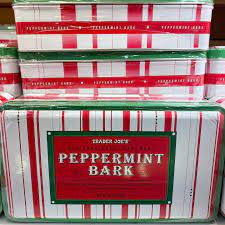 How early is too early? For some, the flurry of ugly Christmas sweaters hitting stores Nov. 1 is irritating, a sentiment that waters down the holiday season, while for others, the time couldn't have come sooner. This holds true in grocery stores as well, Trader Joe's stocking their Winter season specials, Triple Ginger Pretzel and Peppermint Bark, amongst others. 
Triple Ginger Pretzels (6/10)
I've always preferred mint desserts to ginger ones, the two classic winter flavors placed on opposite rungs in my mind. Yet these ginger pretzels are pleasantly surprising, with a mild ginger flavor that brings out the desert itself. My one complaint is that the pretzels are too small, taking away from the snacking experience. 
Peppermint Bark (7/10)
A minty layered chocolate confection, various types of chocolate are layered over each other, topped with shards of broken peppermint candy canes. The flavors themselves work together perfectly, the mint and chocolate recreating a timeless, endearing flavor. However, as someone who is not a fan of candy canes, I much preferred the actual chocolate to the sprinkled shards on top, and wish there would have been smaller peppermint shards at the top of the confection to "spread out" the flavor/texture. It became harder to bite off with large pieces of candy cane scattered throughout. Additionally, the thickness of the bark is quite dense, adding to the difficulty of eating the bark. A knife is almost mandatory for cutting the confection, with it coming packaged in large slabs. Despite this, the treat is a wintertime classic.
No matter which winter treat you want to go with, Trader Joe's offers a wide variety of flavors and treats that are sure to satisfy your sweet tooth. Although I have only reviewed a few of their winter products, Trader Joe's has many more selections, and I encourage you to try them out.