"Onward" Lacks Originality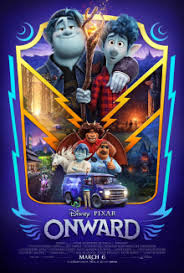 "Onward," directed by Dan Scanlon, produced by Kori Rae from a screenplay written by Scanlon, Jason Headley, and Keith Bunin was released in the United States on March 6, 2020. The movie narrates a story of a modernized community which once used to promote mythical and magical practices and recognized it as a sign of honor. However, after the advancements of technology, this belief faded away and disappeared from society. In this modern time, Ian Lightfoot and his older brother Barley live with their mother, Laurel, and her new boyfriend, centaur police officer Colt Bronco, since their father, Wilden, had died when Ian was young. When Ian turned 16 years old, Laurel gave both brothers a magical staff on Wilden's behalf. Using the staff, they were granted the power to bring back Wilden for one day. However, they are only able to return the lower half of Wilden before the gem of the magical staff disintegrates. Thus, both brothers and Wilden embark upon a great journey to retrieve another gem so they could see each other one last time. Although the movie has received several positive comments, many came to a consensus that it is not a diverse movie with a distinct plot. Overall, it is a wonderful pass-time, but it may not leave an impact on the audience simply based on originality.
Critics' reviews say, "It may suffer in comparison to Pixar's classics, but Onward makes effective use of the studio's formula — and stands on its own merits as a funny, heartwarming, dazzlingly animated adventure." Another viewer writes, "But while it may not be the most inventive animated adventure and its emotional impact may not be as powerful as Pixar's finest projects, Onward is still a poignant tale with several moments of warmth that make the ride engaging."
Although it does not introduce freshness with its plot, following the basic storyline, it has proven to be an enjoyable film that can be watched with all family members. This adventure displays family bonding, relationships, and character development. Ian, being highly introverted at the start, eventually learns skills and applies them, causing Ian's confidence and spell-casting to grow and improve.
All in all, "Onward" is a delightful watch to spend the quarantine time with family and enjoy the moments together, despite the lack of newness.