Eagles Men's Soccer Gets Underway with High Hopes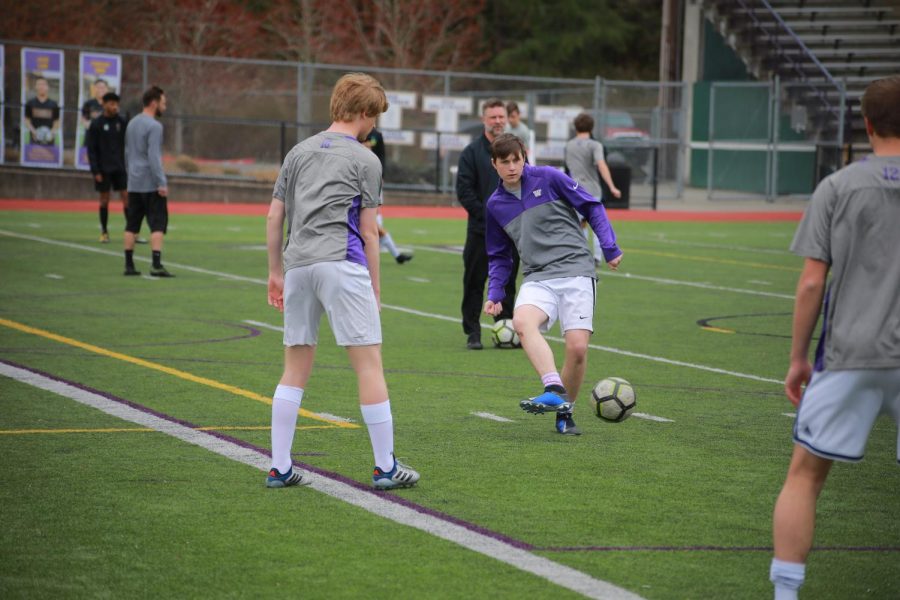 Last year's Issaquah High School Men's Varsity soccer team had an exceptional season, winning the league and only losing twice in their entire season. Unfortunately, the season was cut short, upon losing the preliminary state playoff game to Mount Si. But this year's varsity team, led by senior captains Dawson Oen and Charlie Buttler, will be hoping to go the distance and accomplish what last year's team fell short of: a state championship. The men are already off to a great start with three wins out of three in the regular season, with a frontline led by the dynamic trio of seniors Taiga Crenshaw, Gavin Herman and Ryan Barrett.
Last season, as described by seniors Jack Higgins and Gage Howard, was a "disappointment, and ended way too early," but this "disappointment" seems to add motivation to each player in the team as they seek to make up for last year's shortcomings. This year came accompanied with a fairly large roster change as half of the players are new to varsity. Despite this, there is a lot of hope and belief in the team itself that they can go all the way, and do what last year's team fell short of. This year's group can build off of the past season, junior Nihal Sathi explained, "We're more like a team as opposed to the last few seasons where it's been lots of individuals. We have a lot of great players all over the field, and that should allow us to play better for longer, as the team is stronger than just individuals."
The passion and pride of playing for Issaquah seems to resonate throughout the squad, and as described by freshman Andrew Myerson, "Games become one school versus another, as we represent the other two thousand plus people at our school, and it also feels like we represent part of the community as well, it's a really special feeling seeing all the fans in the stands and hearing the crowd cheer definitely gives us all extra motivation to play our hardest." To Higgins, "It means everything to represent the Eagles on the field. My first game Ryan Barrett actually saw an eagle on the way to our game. If that's not good luck and a sign I don't know what is."
The goal for this year is to "win state," agreed Higgins, Howard, Myerson, Sathi, and juniors Ryan Tuohy and Cameron Kovats. To the seniors on the team, this goal and this last season means everything. From the words of Higgins, "This final season is important, very important, this is what we're gonna look back on from high school, and all of us will regret it if we don't do something special this year."
Be sure to come out and support the boys throughout the season, as "the team is really good and fun to watch and if there's a crowd out there supporting us we will put on a show every single game," as said by Kovats.