The 1975 Release Promising New Singles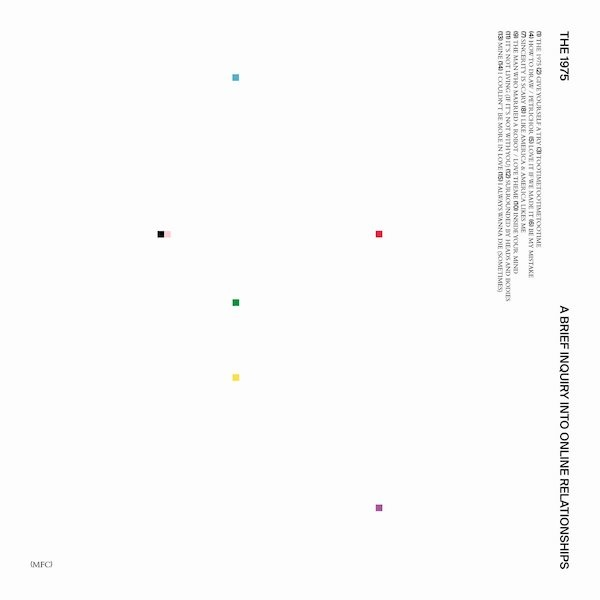 In anticipation for their upcoming album, "A Brief Inquiry Into Online Relationships," coming out this year, The 1975 has so far released four new singles. After listening to all four, it seems likely that this album will be just as loved by myself and other fans. There were some aspects, particularly in the first two, that made me wonder whether or not I would be as eager to listen to "A Brief Inquiry Into Online Relationships," but as more and more singles were released, it became increasingly apparent that this one would not disappoint and would contain both new sounds and the old ones fans loved.
The first single, "Give Yourself a Try," made me slightly hesitant on whether this would be as impressive an album as anticipated. The song is fairly similar to most of their previous releases; however the level of lyrical angst has definitely been increased several notches. That being said, lead singer Matthew Healy sounds, at least in my opinion, mildly congested throughout the whole song. It is almost an absolute banger, but the inclusion of a consistent squeaky guitar riff deters me away from listening to it other than in my most aggressive moods, when I just want something kind of noisy. Despite those slight differences though, the general tune and vibe of the song is right up the alley of a regular 1975 fan.
If I thought that the first single was angsty, I was in for even more politically charged lyrics in the second, "Love It If We Made It." It took significantly less time for me to warm up to this one, and the lyrics were great to scream along to in the car after a long school day. I especially liked the inclusion of a seemingly ironic reference to Donald Trump's "Thank you Kanye, very cool!" tweet.
"TOOTIMETOOTIMETOOTIME," the third release, has been my favorite song so far and gave me the most excitement for the new album. Is the entirely caps lock title necessary? Not really. Does the wrong form of "too" within the context irritate me? Absolutely. Am I missing some sort of artistic point? Probably. But the actual song lends itself well to getting hyped for special occasions like homecoming, or trying to get an extra boost of energy to persuade yourself to go to the gym.
Finally, the most recent single, "Sincerity is Scary," complete with a classic alternative title that criticizes modern societal relationships, also gave me high hopes. It was one of their more calm releases, and the general tone was far less aggressive than the first two. It took some getting used to in order to really get into and figure out where the song was going, but I found myself loving it after the first two listens, especially thanks to some jazzy background saxophone.
After these four singles, my excitement for The 1975's newest album has grown dramatically and it seems like it will be slightly different from their past work without straying too far from what long-time fans have enjoyed from the beginning. The album is projected to come out by the end of 2018, and hopefully these songs accurately preview what could be a nice addition to our playlists, and could be used by future history teachers as a primary representation of the tension and societal response to growing technology and its impact.