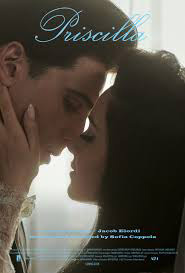 On Nov. 3, Priscilla was released in honor of Priscilla Presley. Priscilla Presley is the ex-wife of the late Elvis Presley, and this biographical drama is based on her book, "Elvis and Me." This movie was one of my favorite movies I have ever seen for multiple reasons, and its flaws are minimal as it has managed to realistically portray Priscilla's life.
Priscilla Presley first met and started dating Elvis Presley when she was 14 and he was 24. Although this was 'normal' for the time, those around Priscilla were skeptical. However, she still left her home to move in with Elvis at 17 and finish her schooling while living with him. This movie continues by showing the negative and less glamorized aspects of Priscilla relationship with Elvis, including his abusive behaviors and multiple affairs. A big reason why I loved this movie was how it went about portraying their relationship. Often, Elvis's legacy is described to be full of glamor, like his appeal to the public and his career; however, movies fail to show how he hurt others, like Priscilla. The movie does not make the Presley's age gap acceptable. In fact, it gives hints throughout the movie about how their age gap has affected Priscilla and her emotional maturity.
Another reason why I love this movie is its effective costume design and color scheme. Initially in the movie, before Priscilla has met Elvis, she wears clothing and makeup that is appropriate for her age, showing her innocence and childlike qualities. However, when she moves in with Elvis, her outfits, makeup, and hair change dramatically. This is incredibly realistic, as Priscilla's iconic look of big black hair and liner has always been perceived as just a cool style rather than evidence of Elvis's grooming. In Priscillas book, she states how Elvis transformed her like a doll, telling her to dye her hair, wear fewer patterns, and cake her eyes in black liner. Her hair gets bigger, and her eyes have darker liner as her relationship with Elvis intensifies, displaying how this relationship has corrupted her to make her main objective pleasing her husband. Finally, Priscilla distances herself from Elvis; her style reverts to her original brown hair and minimal makeup, showing her self-discovery journey starting again. I loved this aspect of this movie because it was so subtle and made the story that much more valuable with its thoughtful visuals.
Docu-dramas like Priscilla are so valuable because they give a spotlight to the women of history that are so often overlooked. I loved this movie, and it manages to appeal to a wide audience, specifically those who are interested in major women in history.