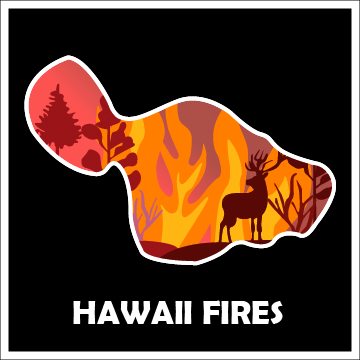 Due to a small, unexpected fire started at the beginning of August, multiple areas on Hawaii erupted into devastating fires. High winds caused the fires to expand father along the islands, only making them grow larger and worse than when it had started. Some have beliefs that Hurricane Dora's fierce winds had interfered and caused them to just worsen further, while others believe the existence of Dora had nothing to do with it.
Hawaiians are concerned and put on edge by these events taking place, whether unsure on how to help families who have been affected, or are being the ones currently affected. Some of them are even going as far as filing wrongful lawsuits against Maui, due to unfortunate deaths of family members or close friends.
Reports say that over 115 residents have unfortunately passed, along with 800 people reported missing after the events of the fires since August 2023. Over 2,700 structures have been destroyed and burnt to the ground, just causing the fires to spread even further.
There are many possible ways we can help. Some people have set up GoFundMe's to help get propped back up onto their feet, and others have Instagram accounts that live update what is actively happening in Hawaii. There are also multiple diverse types of organizations you can donate to from your home. Some of these sites include the Hawaii Red Cross, Aloha United Way, Chef Hui, and more.
Aerial imagery of the devastation shows iconic landmarks like Lahaina's famous banyan tree reduced to rubble and thousands of residents have been evacuated.
Freshman Noelle Chen says, "As much we can wish we can help, there's only so much we can do." Sophomore Katherine Bishop says, "Just because we're only high schoolers, doesn't mean we can't take an attempt to step in."
Hawaii and Hawaii Islands tend to be popular tourism destinations and with big and popular structures being burnt down, it makes it completely impossible to continue being popular amongst tourists. This is obviously also affecting the residents of the island, evacuating them forcefully out of their homes, leaving them to rely on others to get help.
Junior Nicolas Games states, "I believe there's more to the struggles than just tourism, but the lack in consistent tourist visits is definitely a part of it."
Roads and airports were shutdown at the time of the fires, making it completely impossible for families to evacuate, leaving them to do nothing but struggle alone. Some say the fire broke out due to extreme weather conditions, Ups and downs every day. Some days it would be excruciatingly hot and dry, and others the rain would be unstoppable with no signs of ending.
The reason why the lack in tourism may have disrupted the island is due tourism being the lifeblood of the Hawaiian Economy. These wildfires have caused considerable damage to some of Hawaii's most popular tourist areas, including Lahaina Town, which is a historic town on the island of Maui.
The town is known for its beautiful beaches, restaurants, and shops. However, the fires have destroyed many of the towns buildings, including its historic landmarks, which will have a long-term impact on the tourism industry.
The fires have also caused widespread air pollution, which has made it difficult for tourists to enjoy outdoor activities such as hiking, swimming, and surfing. Senior Michael Forenza says, "I wish I was able to visit Hawaii before the tragedy. I had always heard how beautiful it was." This has resulted in a decrease in visitors to Hawaii, which has very obviously put a large impact on their industry.
People have also begun to complain about the lack of fire marshall offices, leaving a gap in prevention of the fires. They are the only state without one of them, and the recent fires have caused casualties and destruction of property. Wildfire prevention is one role that many state fire marshall offices play countrywide.
It was mentioned on some days the fire moved so fast; it was completely unstoppable. They were evacuating on short notice; they were barely even thinking about what they were doing even while it was happening.
Even Hawaii residents can not be sure on how the fire broke out, even if they were the ones who had experience it themselves.  The fires forced thousands to evacuate, were fueled by a mix of land and atmospheric conditions that can cause "fire weather."
While Maui grapples with the devastating losses and officials implement relief and recovery plans, many people have raised questions about how the fires may have begun, what people can do to help from here on, and what they could have done to prevent such a disaster.
An investigation was underway to determine exactly what could've caused the horrid fires, yet the cause has not been officially determined. Investigators have been looking into whether downed power lines and decisions by Hawaiian Electric, the state's primary power company, played a role.
Most of Hawaii was under a red flag warning when the fires first broke out, mainly during Hurricane Dora and its dangerously fierce winds. A Category 4 storm that was moving across the Pacific Ocean hundreds of miles south from Hawaiian Islands.
The earliest blaze reported by Maui County officials was described as a brush fire in the Olinda Road area of Kula, a town in the island's Upcountry region, where wildfires eventually burned through about 700 acres and claimed 19 homes. On Tuesday, Aug. 8, Maui County shared the first details about a Kula brush fire that had forced evacuations early that morning.
The county has noted that even when a fire is 100 percent contained, that does not mean it has been extinguished but that firefighters had it "fully surrounded by a perimeter."