Sorry Not Sorry Has a Deeper Meaning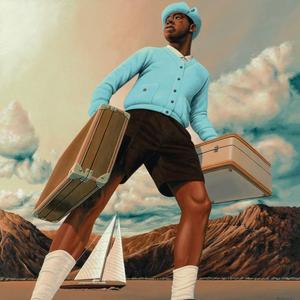 Tyler the Creator just recently released new music and these new songs were an addition to one of his top albums, "Call Me If You Get Lost," and the viral song is "Sorry Not Sorry." This song was released March 29th and has already become one of the biggest songs covered on social media. It has great vocals and production, and the music video has deep messages about Tyler the Creator and his past.
The popularity of "Sorry Not Sorry" is understandable as Tyler the Creator's music has made many evolutions throughout his career and through every album. For each album there have been characters which are used to represent Tyler's emotions and maturity in the new song and music video where each character is shown singing a part of the song that represents Tyler the Creator at different stages in his life. He straight away apologizes to his mother saying he "is sorry" about how the "four minutes where you see your son could feel like a chore." Once he apologizes to his family, he begins to apologize to Odd Future, who he used to produce music with. He is shown to be "fighting" the other personas like ones that represent ego and greed in the music video trying to apologize for the mistakes they made. The song and music video were both produced by Tyler the Creator. Tyler directing the music video and the song itself, which are about the mistakes he made when he was his other personas makes the song even better. If someone else directed the music video, I do not think that it would be as meaningful and as symbolic.
The song overall is a great listen and I highly recommend watching the music video as well because it helps deepen your understanding of the lyrics and different styles of music that are played throughout the song to represent his personas. This combined with the stunning vocals of Tyler the Creator creates a tone of regret that makes the song much more emotional.