"Did You Know That There's a Tunnel Under Ocean Blvd?": An Album With a Complex Yet Necessary Conversation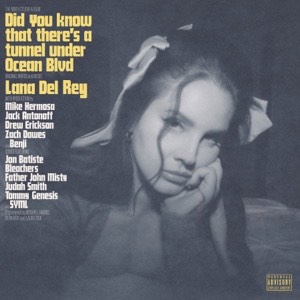 On March 24,, singer-songwriter, Lana Del Rey, released her ninth album, "Did You Know That There's a Tunnel Under Ocean Blvd?" Lana fans have been waiting for this release forever, and the many hiccups that occurred before the release were worth it, as this album exceeded expectations. The album contains 16 songs and collaborations with many artists, like John Batiste and Tommy Genesis. This album's overall theme and mood are melancholy, yet it carries heavy philosophical weight as it begs society for answers about femininity, dating, and mental health. 
One of the singles in this album is "A&W," and its important hidden message is essential to recognize. Although this song became popular for its last two ethereal minutes, it questions the loss of innocence and hurt after a sexual assault. Lana starts by singing, "I haven't done a cartwheel since I was nine. I haven't seen my mother in a long, long time." Childhood innocence is cherished, and Lana portrays her loss of such innocence by reminiscing on her lost memories. She continues, "If I told you I was raped, do you really think anybody would think I didn't ask for it? I didn't ask for it. I won't testify; I already f***ed my story." Lana mentions the overarching struggle of many sexual assault survivors: the chance of not being believed. Sexual assault has lasting effects, including the loss of memory of a traumatic event. With memory loss, it can be hard to recall specific events when reporting an assault. This makes many survivors feel that they cannot share their assault for fear of not being taken seriously. "A&W" pushes listeners to acknowledge how rape changes someone and how a part of one is gone after going through such a trauma.
Lana's next memorable song is "Paris, Texas." In this song, Lana illustrates her traveling around the globe to abandon her broken relationships back home. She says, "When you know that it's time to leave like the summer breeze." Compared to the wind flowing, Lana's exit is quick and represents her desperation for isolation. Additionally, she sings, "When everyone shines, they're brighter than you are. It's time to go and you're the only one left." Growing up and facing difficult situations (like a tumultuous romantic relationship) is difficult when everyone around you is seemingly perfect. This anxiety triggers a fight-or-flight response, and Lana's choice here is flight as she travels around the world to comfort people.
Lana has notoriously been a figure in the 'sad girl' community, and this album has many songs that speak for people who have been silenced from communicating their hurt and experiences. Tackling complex subjects like sexual assault is brave, and Lana's whole album screams bravery as she vocalizes the many issues of her listeners. This album delivered the sad vibe that Lana has always possessed while managing to convey varied and current issues. I'd recommend this album to anyone who enjoys listening to slower and deeper songs.