"Lavender Haze" Is a Fun Addition to the Midnights Music Videos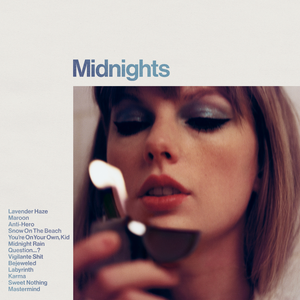 On Jan. 27, Taylor Swift released the long-awaited music video to "Lavender Haze," the first song on her album "Midnights," released in October. It is the third music video she has released for this album, following "Anti-Hero" and "Bejeweled," all which Swift directed herself.
The music video is typical to many that we see today from popular artists, characterized by their strange scenes and complex symbolism, as well as not-so-complex allusions to the artist's personal relationships. In this way, the music video for "Lavender Haze" music video is nothing special.
However, the careful attention to detail that Swift has used in the video makes it an enjoyable watch. She seems to reference other songs from her new album throughout the video, leaving behind a trail of fun surprises for her fans to pick up on. For example, she pictures "burning incense on [a] vinyl shelf" from "Maroon," as well as portraying her lover as a weatherman in the video, an homage to "the guy on the screen, coming straight home to me," from "Karma" (In real life, Swift's long-time partner, Joe Alwyn, is an actor).
Another thing Swift's fans are excited about is the recurring koi fish in the music video. Fans have speculated for several months that Taylor Swift is currently re-recording her third studio album, "Speak Now." Since Swift played a guitar decorated with koi fish during her Speak Now tour in 2011, her fans hope this is a sign that they can expect new music soon.
Swift should also be applauded for her captivating set, costumes, and artistic scenes. The way she uses 70s-style interior design and clothing throughout the video brilliantly emphasizes her psychedelic visuals of magic, surrealism, and the intoxicating lavender haze that spreads over the subjects in her video. Although the video sometimes feels strange and confusing, with peculiar scenes that may seem irrelevant or disconnected from the music, Swift still manages to tie all the pieces together into an enjoyable viewing experience. Whether you are a superfan, or just looking for a few minutes of entertainment, Taylor Swift's "Lavender Haze" music video is an engaging piece of visual art, perfect for enjoying alongside her music.