Depp vs Heard Trial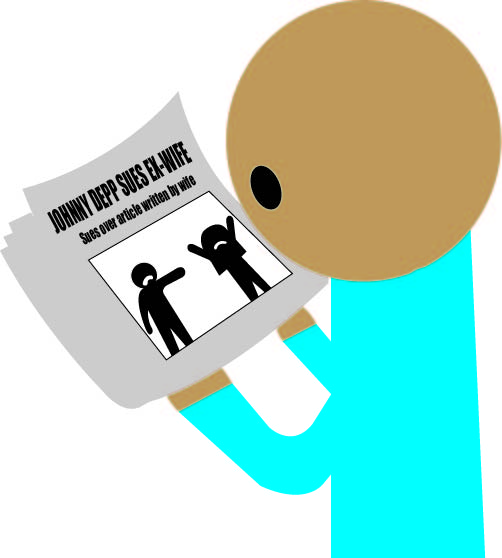 Johnny Depp is an award-winning actor, producer, musician, and artist. A once extremely popular man from the 90s and 2000s, Depp had his reputation and career ruined by an op-ed written by his ex-wife Amber Heard. Amber Heard is an actress, mostly known for her role in "Aquaman" and its upcoming sequel. Nowadays, they are both well known for the six-week defamation trial as Depp sues Heard for $50 million in damages after she alluded to being a domestic violence survivor after their two-year relationship came to an end. This claim came after Depp refused to pay a high monthly amount for a continuous lifestyle for Heard in their divorce. Heard's lawyers wrote up a letter and made it clear if Depp did not accept the claims, then there would be a restraining order filed, bringing the case into the public eye. However, to fully understand the trial, the history of their relationship is extremely important.
Back in 2009, Depp and Heard met on the set of "The Rum Diary" where they met and were cast as each other's love interests. Depp notes in his testimony that "it felt like that kiss (from the movie) was real, I think at some point it was." However, after they met they did not see each other for two years until they went on a promotional tour for the movie. After Depp and his ex-wife got divorced in 2012, Heard and Depp began their relationship and got engaged in 2014. In 2016, Heard filed for divorce after Depp supposedly threw a mobile phone at her head. In the divorce letter from Heard's lawyer, she wanted three of Depp's penthouses, the Range Rover (and for him to pay for it), as well as $125,000 to help cover legal fees, with a monthly payment to keep up with her lifestyle. If Depp did not agree to these terms, Heard said she would go public with her accusations and the divorce. Depp and Heard went through their negations and eventually settled the divorce. However, Heard did not keep everything out from the public. In 2018, she wrote an op-ed in the Washington Post saying, "Then two years ago, I became a public figure representing domestic abuse, and I felt the full force of our culture's wrath for women who speak out." Due to the op-ed, which was about Depp, Depp lost all deals, endorsements, as well as acting jobs. His kids ended up facing the wrath at school and in public, which is why Depp is now suing for defamation.
Now the six-week defamation trial is in full swing as Depp fights to win the U.S. battle after losing the trial in the UK. Friends and family, including Heard's parents, are testifying on behalf of Johnny Depp. This includes doctors who have met with both Heard and Depp, who will give an insight on how both of their mental health was during this period. Sophomore Jorie Doughtery believes that Heard's testimony will "affect the trial, obviously, but I feel like it will contradict every single piece of evidence. All the evidence is stacked against her and her lawyers obviously aren't using their time well." The evidence is stacked against Heard from the tip of Depp's middle finger being sliced off when she threw a glass bottle at him to the audio recordings of the abuse during their relationship. This includes recordings of Heard saying "I wasn't punching you. I was hitting you," among the many other recordings. While the evidence is stacked against Heard, it has been harder for her lawyers to argue on her behalf, as they commonly call hearsay. Senior Ash Lloyd says, "You can not say it's hearsay after one point because it contradicts everything," which is true, after a while, it seems like the lawyers are hiding something. Junior Pranav Vulsetti agrees as he notes, "It seems like they are trying to hide something during their time questioning witnesses." Other evidence that will be included is evidence and testimony from the UK trial, which Depp had lost.
Heard has started her testimony, which will be key to the trial, and in true societal fashion, her obvious acting became memes on Twitter, Tiktok, and Instagram. Many are outraged about her defense, especially as the facts are quickly called out as lies. Heard's lawyer notes at one point that her client carried and actively used Milani's Conceal + All-In-One Correcting Kit to cover the bruises from Depp, yet the relationship lasted from 2014-to 2016 and the kit was not released until 2017. This was revealed when Milani came out refuting their claim, on Tiktok. Small details such as these are important as the lawyers continue to make this a big deal in court. After the Milani Tiktok with their statement went viral, fans at the courthouse showed Depp's lawyers who said they would investigate further.
As the trial continues, a new norm will be set through the handling of such a sensitive subject. The evidence against Heard is astronomical, but her testimony might change everything. Either way, the future of this trial lies in the hands of the jury. The court is live-streamed every weekday from 6:00 am to 3:00 pm.