Fivio Foreign Drops New Unique Album B.I.B.L.E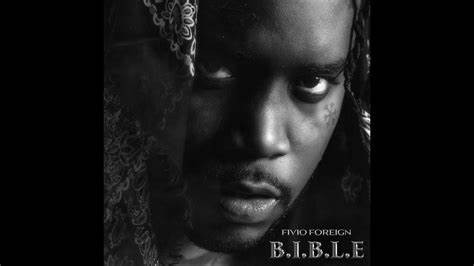 On April 8,, Fivio Foreign dropped his newest album B.I.B.L.E with 17 songs, including features with some top artists like Quavo, A$AP Rocky, Lil Yachty, Lil Tjay, Polo G, Blueface, DJ Khalid, and more featuring through out the 17 songs.
The album was interesting as Foreign used multiple samples of other songs in order to pull listeners into a beat they have heard before. For example, his song "City of Gods" featuring Kanye West and Alicia Keys starts off with a sample of the well known song "New York City" by the Chainsmokers. The song mixed in the hip hop with the sample song, bringing in some more modern rap, which mixed together, was an enjoyable song. Foreign had a couple of other samples in his songs including another sample of the song "Say My Name" by Destiny's Child which  is also sampled into Foreign's song "What's My Name" featuring Queen Naija and Coi Leray. 
Foreign did not follow the crowd of modern rappers as he brought in more unique music by using samples of songs as intros to his own songs, which is not a very common route other rappers take. Foreign brought this idea into almost every song in his album and made it an interesting album. When you listen to some of the songs on the album, your brain thinks back to the songs you may have heard a long time ago. Foreign brought a new element to the table and displayed this element in his new album. The album is definitely worth a listen. as it is very unusual for rappers to sample a song before they start their own. Besides the fact of Foreign adding samples, his rapping in the album was good during some of the songs, but he also had some parts where I was not a fan. He did have some very unique lines in his lyrics that boasted some of his songs. I did not think this album was amazing by any means, as it did not match my style of rap, but I think the album is worth a listen as it is not something you will hear every day.