A$AP Rocky's 10th Year Anniversary "LIVE.LOVE.A$AP" Album is Absolutely Phenomenal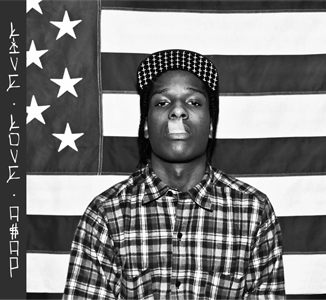 Rakim Athelaston Mayers, otherwise known as A$AP Rocky, is an American rapper from Manhattan. His most recent album "LIVE.LOVE.A$AP" has recently come out on Spotify and other platforms. It is phenomenal as ever. The track list from beginning to end was really nice to hear, and for a starting album, it's really amazing how ahead Rocky was in sound. As it aged fittingly throughout the years, the fundamentals displayed on many of the tracks such as instrumentals, bass, and the way he used his flow competes with many of today's rap music.
What made it work so well for the beginning of the tracks on the album is that the flow Rocky gives is consistent and these amazing sampled beats fit well with the pace his flows follow. That makes it feel good and just is an overall great track. Lyrically though, the main center and message across these tracks are overall not that great. A$AP Rocky talks about money, drugs, fashion, and women he picks up, but the way he sometimes sets these bars is pretty creative. For example, one line from the track "Pesos" goes, "Pull up in that hard-top, showing off my keys Graduate school of hard-knocks, I can show you my degrees Couple A, B, C's, bad [Explicit], double D's Popping E, I don't give a F, told you I'm a G." While the message is indifferent, the way he conveys the message is relatively smart as he talks about his grades for school while also going down the alphabet with the bars he drops. The high-kicks that are displayed around the album are a nice touch to the sounds of 2011: He follows the original formula most rappers had back in that era, while also having interesting sampled beats that go well with Rocky's overall persona. The production and sound of the mixtape is even comparable to the finished albums of other rappers, as Rocky came out really strong even at the start of his career.
 "Pesos" is my overall favorite track from the entire album, as the sample choice he uses for that track is really iconic and memorable. Albeit, not being the most popular track in the album, it's an overall classic in the rap industry as this would be displayed as what Rocky can really represent in his community and the meaning of A$AP: Always Strive and Prosper. As a part of Rocky's discography, this isn't his entirely best album, but his critically acclaimed certified platinum "LONG.LIVE.A$AP" album takes the cake, as he evolves in mixing and production of his songs and has really amazing collaborations on the tracks with Kendrick Lamar, Drake, ScHoolboy Q, A$AP Ferg, and many more.
 "LIVE.LOVE.A$AP" has come to be a stepping stone to Rocky's career, as he took a step forward to his success in the rapping industry that created a huge impact amongst other rappers, who were transposed to his music. Overall, the album is a solid 7/10, and for it to be a starting stone to Rocky's career, it was fundamentally a really great project.