Afterlife of the Party: A Fun Family Watch Along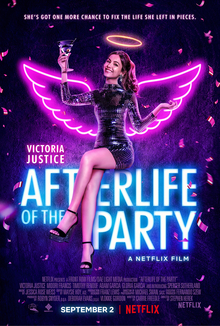 Released on Sept. 2, 2021, Netflix Original film "Afterlife of the Party" quickly rose to the platform's Top 10 spots, with its mix of lighthearted drama, comedy and feel-good moments that catered to families. 
Starring Victoria Justice as protagonist Cassie, the film follows the journey of a young adult after death as she struggles to reconcile with those from her past. Alongside the heartwarming moments of bonding and rediscovering relationships, comical quips are sprinkled in, creating a rounded and humorous film. Afterlife of the Party steers toward the whimsical side of redemption after death movies, making sure to incorporate short quips, often relating to pop culture. 
At times, the jokes are misplaced or mispositioned, leading to slightly confusing moods. When quips such as "But I thought [hell] was for murderers… and people who don't like Beyoncé!" are inserted through a period of uncertainty, it lessens the confusion of the moment, dulling the spontaneity of certain actions and words. This results in specific parts of the movie, such as the beginning, feeling like they went on longer than necessary. However, this technique also works to help embrace the comedic aspect of the movie, as it temporarily mutes the trauma of the situation and allows the main plot to continue without an excess of emotional baggage. The timing of these quips also gets better as the movie progresses, with the rhythm really falling in line as Cassie comes to accept the new reality of her situation.
I found that these comedic bantering in Afterlife of the Party contribute greatly to its feel of being a family movie. It contained plays on words and well-written dialogue that made relationships more authentic. At the same time, the film touched on more mature topics and discussions, such as romanticizing relationships, making it appealing to all ages. 
 While Afterlife of the Party has a slow start, the comedic puns and versatility in life lessons produce a film catering to thousands of viewers, and it stays a great film to watch with family.