Modern-Day Heroes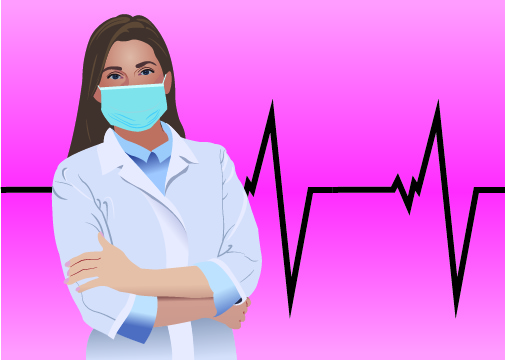 In the past year, COVID-19 has attacked the entire world, resulting in some devastating consequences in several ways, but most of all, it has impacted the medical field. In the time of this health-crisis, some superheroes have stepped up to protect us from danger, even if that means risking their own lives.
Today, doctors are dedicating countless hours to their work, taking care of patients and doing their best to help them recover, but are ending up sacrificing their own health and family time. An article published by PEOPLE.com describes a candid Twitter post shared by Craig Spencer, who is the Director of Global Health in Emergency Medicine at New York-Presbyterian and Columbia University Medical Center: '"There is a cacophony of cough," he wrote of entering the ER. "You stop. Mask up. Walk in." Spencer said nearly every patient — young and old — shows the same symptoms: "cough, shortness of breath, fever." Before 10 a.m., two of his patients must be put on life support. "For the rest of your shift, nearly every hour, you get paged," he continued. "Stat notification: Very sick patient, short of breath, fever. Oxygen 88%, Stat notification: Low blood pressure, short of breath, low oxygen, Stat notification: Low oxygen, can't breathe. Fever." It's that, "all day…." Then before he goes home, he makes sure to wipe everything down — "drown it in bleach." Once he gets home, "You strip in the hallway (it's ok, your neighbors know what you do)." "Everything in a bag, " he added. "Your wife tries to keep your toddler away, but she hasn't seen you in days, so it's really hard." "Run to the shower," he finished. "Rinse it all away. Never happier."'
Working at the hospital for long hours and returning home with the possibility of being infected is a great worry for doctors in these uncertain times. They have to work and live with the fear of getting the disease themselves and spreading it to their loved ones. Madhuri Kandala, a doctor that works at her own private practice, Evergreen Hospital, Overlake Bellevue Hospital, and Swedish Hospital says, "It is hard because you aren't sure what kinds of risks you are exposed to and bringing to your family. While you may try to decrease and prevent that, the risks are still prominent." As of Dec. 4, 2020, the CDC COVID Data Tracker calculated 13,822,249 total cases since Jan. 21, 2020. With so many cases emerging, there is a great necessity for doctors to be on call more often than usual. A doctor in Washington, Sibani Das has been certified with the title of doctor for less than a year, yet, while describing the balance between her personal and professional lives, she explains the circumstances that doctors are facing. Dr. Das says, "It is difficult, I think, more than ever because the work burden is increasing, especially for primary care providers. It is hard to create boundaries and maintain a work-life balance. Especially with this pandemic, there is a great, big toll and demand on healthcare professionals that the impact of the work is leading to a huge sacrifice on families. It has required a strong infrastructure and support network within the hospital and health care teams to use resources efficiently and effectively, keep patients and health care workers safe, and bond in strong and supportive ways." It truly has been horrible for doctors to witness how many lives have been lost and the physical, mental, and emotional effects of this pandemic. She adds, "Knowing that doctors are trying to do their best to support one another, patients and their families, and their health care teams while reminding themselves that they are only human no matter how much they try to be superhumans." The work-life balance that others have been gifted through remote platforms has been taken away from doctors, making their routines completely unpredictable. 
This pattern is not only faced by doctors but is noticed by their families as well. Sophomore Michael Lim says, "My mom is a doctor of physical therapy and is the head administrator of Providence Marianwood, a skilled nursing home. I think that [doctors] are doing the best they can, because to a certain extent, they cannot solve the entire problem by themselves as everyone needs to work together and obey guidelines." Clearly, doctors and other healthcare workers have put all hands on deck to cure the increasing number of patients that they are receiving; however, not all people are doing their part in preventing the spread of COVID-19. An article by Bloomberg states, "Scientific inquiry over the months since the SARS-CoV-2 virus emerged has revealed a lot about how it spreads and how to treat the disease it causes. Yet every day [Michigan Doctor Farhan] Bhatti sees patients who reject that evidence, sometimes at the expense of their own health." Even after the countless deaths due to COVID-19, many people around the world refuse to wear masks and follow social distancing protocols, risking themselves and the people around them with infection. They are not comprehending the big picture and how many lives they are putting to danger–friends, family, and doctors that eventually treat them as well. Junior Erin Tylutki states, "I think that the majority of people are cooperating with doctors and their advice, but unfortunately, it only takes a few people who don't wear a mask or decide to meet up with others to infect a lot of people." These circumstances have been making their work extremely difficult for doctors.
On top of that, they are not getting provided with the appropriate materials and amount of money for the service they are doing. Fox News reports, "In recent days and weeks, doctors across the country have been notified that their pay will be slashed during the height of the coronavirus health emergency," and goes on to describe the situation of a COVID-19 doctor. "The scarcity of protective gear at work is still so bad that she's wearing N-95 masks that she found from Craigslist. She's isolating from her family out of fear she could sicken her loved ones and now she's unlikely to make her $4,000 monthly medical school loan payments." Doctors are not only physically, but mentally are also getting drained out and when they still cannot garner enough money for their families, they are not in a good situation and need to be supported by people as much as possible. This can be done by simply taking precautions from the disease for the betterment of all.
Das says, "I believe [doctors] have always been [heroes], but the pandemic definitely highlights the importance, impact, and power of their work and efforts." Overall, doctors have taken on a huge role in our society today and deserve to be acknowledged for it. Their dedication and sacrifice during this pandemic is something that will surely be remembered in the years to come.