Tekashi 6ix9ine's Comeback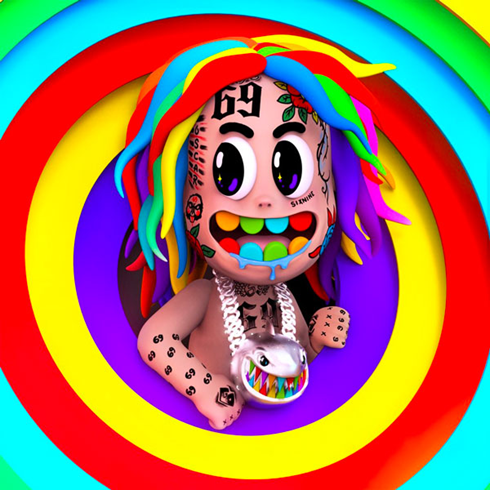 On Sept. 4, Tekashi 6ix9ine released his newest album, "TattleTales." This album almost serves as a welcome home gift for 6ix9ine fans as Tekashi was released from his home confinement prison sentence only one month before. Although 6ix9ine was supposed to stay in jail for two years, his lawyer argued for home confinement as Tekashi has asthma and would be susceptible to coronavirus. Because of this, Tekashi was able to release a few songs while locked inside that are featured on "TattleTales," such as "Punani" and "TROLLZ."
Since his last album,"DUMMY BOY" was released two years ago and featured big hits such as "FEFE" and "STOOPID," Tekashi 6ix9ine had to make sure his next album brought the same hype to the table. "TattleTales" carries 13 tracks with features from Nicki Minaj, Akon, and more. 6ix9ine has been a sort of joke in the rap world for a while now as his music has never been very good. Even Tekashi himself said that "'My music's not that good. But yo, my videos…'".
The album begins with "LOCKED UP PT.2" where 6ix9ine describes his experience in prison and the guilt he faces, but then goes straight into "TUTU," where he explains he can "tote a pistol when he wants to." Although the layout and lyrics do not all coincide with each other, I found the songs to actually be really good. Before this album, I have always disliked 6ix9ine's music, but "TattleTales" changed my mind. Despite this album receiving very little hype and the negative reviews around it, I actually really liked this album. It was the first 6ix9ine album I felt that he was not just yelling into a mic and actually had a message behind his lyrics. 
One impressive thing to note about this album is that already three of its songs have been used in viral trends on TikTok, giving even more hype to the album and 6ix9ine's return. Along with that, 6ix9ine has also been working on collaborations with the TikTok-famous Hype House to promote his new album. So, it is safe to say that we will be seeing a lot more of Tekashi 6ix9ine not only in the rap game, but in our TikTok feeds as well. However, this has become a controversial issue due to the fact that the Hype House attracts a younger audience and 6ix9ine was not only in jail, but has accounts of pedophilia and other charges. Due to this, many fans and other Tik Tok users are upset, calling out the Hype House for promoting his music and him as a person. 
Overall, I have nothing bad to say about this album. Tekashi 6ix9ine truly brought his best to the table and carried a new energy to this album that has not been present in his previous ones. If you want to experience a new side to this young rapper, be sure to give "TattleTales" a listen.