Iowa vs.Trump
The Democratic 2020 mission to pust President Donald Trump could not have gotten off to a more disastrous and embarrassing start.
The party could not even deliver a first-in-the-nation election night winner after a vote-reporting debacle in Iowa, where candidates spent millions of dollars for a glittering opening prize in their nominating contest. "Iowa, you have shocked the nation," said former South Bend Indiana Mayor, Pete Buttigieg. It was a surprising attempt to win in the absence of a result, but the 38-year-old inadvertently cast judgment on the political outrage.
Meanwhile, Trump operatives are already spinning conspiracy theories and disinformation about what the Iowa Democratic Party said were "inconsistencies" in its results. Their aim is to create a narrative that tarnishes the eventual nominee as illegitimate. And on the eve of his State of the Union address and two days before he's set to be acquitted in his impeachment trial, things cannot have worked out better for the President.
"Iowa will be agonizing for whoever comes out on top but for any candidates who under performed, which could be former Vice President Joe Biden, which might turn into a 'lifeline'," said Kayla Epstein 
The President pounced on the confusion early Tuesday morning. "The Democrat Caucus is an unmitigated disaster. Nothing works, just like they ran the Country," he tweeted.
"This nightmare also played right into the hands of a President spoiling for months to brand his rivals as weak, disorganized and even worse — plotting to rig the results to hand its crown to an establishment favorite." says Stephen Collinson, CNN white house reporter. Although, there's little doubt that Trump will use such a narrative as an excuse if it looks like he will lose in November.
"It would be natural for people to doubt the fairness of the process. And these are the people who want to run our entire health care system?" Trump campaign manager Brad Parscale said, taking political advantage. It could be that after the countless twists of the campaign and changes of fortune, apparently a vote-reporting app will be a distant memory by July, especially if one of the candidates turns Trump into a one-term president. 
However, democrat from Connecticut, Senator Richard Blumenthal spoke about what he will remember about the "historic event" that was the impeachment trial. He said he will "remember vividly the bravery of public servants" who came forward with "everything to lose" and "nothing to gain" by telling "the truth about Donald Trump."
However, Senator Lisa Murkowski states "[she] cannot vote to convict." "The House failed in its responsibilities and the Senate should be ashamed by the rank partisanship that has been on display here … It is clear to me that few in this chamber approached this with a genuinely open mind," she said.
Blumenthal said he admired their courage, grace, and dignity under pressure, which should "be a model for all of us." He mentioned witnesses Lt. Col. Alexander Vindman, who he said served the US in combat and "put his career at risk" to testify. He also mentioned Fiona Hill, who Blumenthal said warned us not to peddle the "fictional narrative" from Russia about Ukraine meddling in the 2016 election. He called out Bill Taylor, who testified that it is "crazy" to withhold military assistance to help with a political campaign. And finally he mentioned the whistleblower, who Blumenthal said came forward to expose the President's attempt to "extort" and ally to "help him cheat" in an election. He also said he will remember the "shame and sadness" he felt when the Senate voted to "close its eyes" and not hear from more witnesses or subpoena documents. Blumenthal said he'll remember the "audible gasp" in the chamber when Trump's lawyer Alan Dershowitz made the "incredible argument" that a President can do whatever he wants if he feels it's in the national interest. Blumenthal said the "implications of that argument" are "simply indescribable."
About the Writer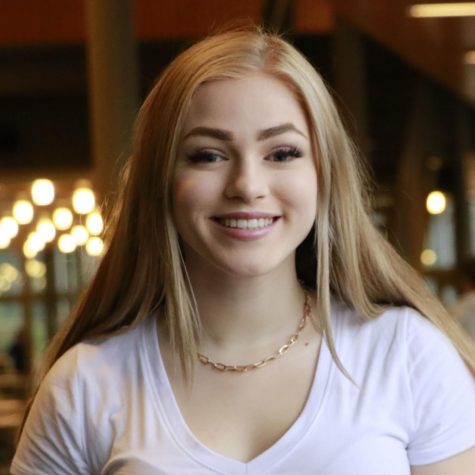 Bianca Johnson, Staff Writer
Class of 2023, first-year-journalist, very involved, energetic, and a hard worker. I am also a mom of my pug named Pig.