Early Release Songs from BTS Hint at an Unforgettable Album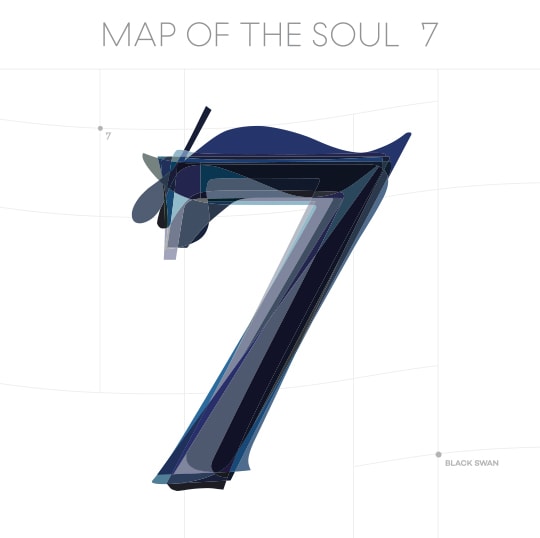 On Jan. 7, global Korean pop sensation BTS announced the release of their new album, "Map of the Soul: 7," which will hit–and potentially crash–the Internet on Feb. 21.
Since the release of their album, "Map of the Soul: Persona," BTS fans–called ARMYs–have spent the last ten months excitedly anticipating the group's next comeback, and now the frantic energy has an output date. Following their jam-packed schedule filled with release events and global projects, BTS have already introduced their fans and the rest of the world to three wonderfully diverse songs off the album.
The first of these songs was "Shadow," a powerful solo rap composed by one of the group's rappers, Suga. Besides it being a record-breaker in its first 24 hours of release, at its bare bones, "Shadow" is a song about the realities of success and how a large fanbase comes with an equally large crowd of haters. Throughout the song, Suga takes on the perspective of an artist before and after fame who eventually recognizes that hate and doubt go hand in hand with the love and support of fame. I immediately took a liking to this song, not just because of its raw lyrics, but also because of its wild and untamed beat. On the first beat drop I just knew: this was going to be an amazing song. The unusual format of "Shadow" and the hard-hitting, angry atmosphere of the song really drew me in. However, the song noticeably appeals to fans of hard rap music and may be difficult to appreciate for some.
Another one of their early releases was "Black Swan," a whole-group song with a demanding trap beat and a contagious instrumental melody. Although less coarse in its musicality than "Shadow," "Black Swan" dealt with an equally introspective topic in its lyrics. "Black Swan" explores the fear and pain of losing one's passion–in the case of the BTS members, music. The message is made especially clear in the music video, which begins with reference to this quote by revolutionary choreographer, Martha Graham: "A dancer dies twice—once when they stop dancing, and this first death is the more painful." As a dancer and someone who is generally artistically inclined, this message really resonated with me, but you do not have to be an artist to dread the sorrow of being unable to pursue the activities that you are passionate about. Whether you are an athlete, an artist, a mathematician, or a scientist, the idea of having your passions stolen from you may be unbearable, and that is exactly what BTS conveys in this haunting song.
The most recent early release for "Map of the Soul: 7" is the energetic, light-hearted solo song entitled "Ego." "Ego" was a bouncier, almost old-school rap song true to the style of J-Hope, another one of the group's rappers. This song connects to the solo rap songs, "Persona," which appeared on BTS's previous album, and "Shadow." While "Persona" addressed self-doubt and "Shadow" acknowledged the critic of the music industry and social media, the lyrics of "Ego" stress self-confidence and commitment to pursuing one's passions despite these conflicts. "Ego" seized my interest with an unusual, catchy introduction and then held me with its encouraging, party-perfect rhythm. It mimics a feel-good dance song, and it's a wonderful complement to the stronger early release songs.
From the release of these three songs, it is the general prediction that this album will keep to a soul-searching, almost dark theme with a couple of lighter B-side tracks like "Ego" to complement the heavy theme. Either way, ARMYs will be following BTS's release events closely and encouraging everyone to anticipate the group's new music. On Feb. 21, fans will be waiting with bated breath to experience the new album and the Internet can only hope that the voracious dedication of ARMYs will refrain from overtaking and crashing websites along the way.