CARE Club: The Safe-Space For All Students
Every Tuesday after school in the College and Career Center, students meet to discuss prevalent racial issues in the media, their personal lives, and the school. Consciousness and Racial Empowerment Club, or CARE, is a relatively new club that holds a large importance within IHS. The club is designed to create an environment that feels less like school and more like an open space to gather with supportive individuals. According to sophomore and Vice President Chembe Fontama, the club also serves as a "place for people of color" who are invited to "retreat from living in a world where they sometimes feel like they are not accepted".
Since last November, CARE has been working on the Martin Luther King Jr. Assembly by creating activities, gathering speakers, and formulating engaging conversations for students. The club has done this in the past few years along with hosting a Black Lives Matter Awareness month, organizing a student walkout, and encouraging the removal of "The Adventures of Huckleberry Finn" from the district's AP curriculum. Aside from their impact within the school, the club positively benefits its members as well. For sophomore Lucas Enander, he relates that "the whole concept of these conversations and topics used to seem alien and foreign," but now he is able to be "more clear, open-minded, and understanding." Freshman Velena Beeks was given a new awareness about the people around her: "I‌ ‌learn‌ ‌about‌ ‌stuff‌ ‌you‌ ‌don't‌ ‌see‌ ‌on‌ ‌the‌ ‌news‌ ‌from‌ ‌the‌ ‌other‌ ‌people‌ ‌in‌ ‌the‌ ‌club‌ ‌and‌ ‌I‌ ‌learn‌ ‌about‌ ‌experiences‌ ‌that‌ ‌happens‌ ‌to‌ ‌others‌." As a founding member and current President, senior Lauryn Henderson admits that "race is an uncomfortable subject and people may not want to join for that reason; race is never going to go away and it's necessary for us to get comfortable with the topic to actually make a change in our society."
Some members have expressed a desire to have more students join and have greater visibility throughout the school. Senior Hunter Wray expands on this by saying, "I think CARE should be promoted more because it's a necessity. CARE needs to have a greater platform to show that students of color have a place at Issaquah too." One of the primary goals for the club's future is expansion. While changing the culture at IHS is important, it has become necessary to begin normalizing these relevant conversations at a young age. Recently, the club has established a chapter of CARE at Issaquah Middle School.  Considering all of their efforts to change the school environment, CARE is not very well known amongst the student body, contributing to its low student membership. However, Fontama says that this has no impact on the club's efficiency: "Last‌ ‌year‌ ‌we‌ ‌only‌ ‌had four‌ ‌people‌ ‌but‌ ‌that‌ ‌was‌ ‌definitely‌ ‌a resounding‌ ‌year ‌for‌ the ‌club‌".
As of now, it seems as if CARE is doing a lot of the behind-the-scenes work without much recognition or promotion. For Enander, he remarks on how beneficial it would be if that changed, saying, "I feel we could be more efficient in spreading more awareness, CARE club isn't supposed to be isolating, it's inclusive". Although the group is small in numbers, it is large in impact around the school. In terms of the day-to-day experience within CARE, Fontama describes it best: "We're a group of people that is a family because that's the same sentiment we try to emit to the schools, and that everybody here should be united together and dedicated to making the school a better place for each other."
About the Writer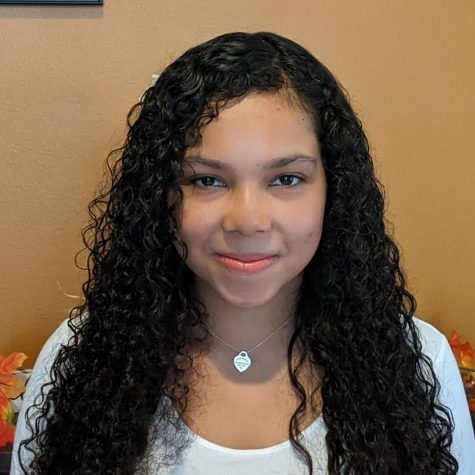 Rebekah Rahman, Copy Editor
Class of 2021. Certified Twilight expert with a love for rock music. Consumer of caffeine and literature. Most likely playing with my dog or listening...