Huskies Suffer Close Loss against Utah Utes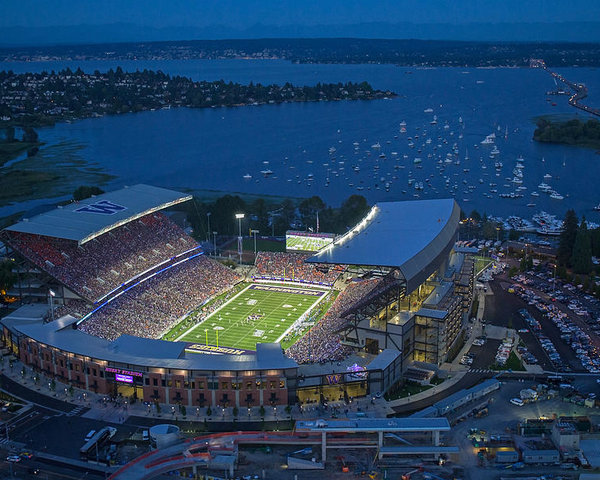 On Saturday Nov. 2, the Washington Huskies went up against the No. 9 Utah Utes in a game that was predicted to be an upset to the top ten. Washington Huskies offense dominated the first quarter. On their first drive, quarterback Jacob Eason threw to wide receiver Jordan Chin for a nine-yard touchdown. While in Washington territory Eason fumbled the ball and the Utes were able to recover, turning it into a field goal. Washington then scored another touchdown as East threw to Hunter Bryant with a 35-yard touchdown, giving the Huskies the lead and ending the second quarter with a score of 14-3. After halftime the Utes turned the game around and Utah quarterback Tyler Huntley threw for 284 yards and one touchdown.
The second quarter was sealed by the Utes with a score of 14-13, the Huskies up by a close one point. With the game still relatively close at the start of the third quarter, Washington was still playing competitively. Although this momentum changed as Eason made an unlucky decision by throwing the ball to his teammate who had triple coverage, the ball was picked off by Utah cornerback Julian Blackmon. At this point in the game Eason was struggling; turned over the ball twice and gave Utah an easy three points, preventing Washington from some easy points early in the second half. This was said to be Eason's worst game in his Husky career.
The third quarter wrapped up with a score of 21-19; Huskies were still leading this close game, but now by three points. At this point in the game, Washington started to gain back some momentum as Utah fumbled on their next two offensive possessions, both recovered by the Huskies. This high was short lived as Easton threw a second interception to Utah cornerback Jaylen Johnson who then proceeded to score a touchdown right after. After the score Utah, attempted a two-point conversion, which Washington stopped. Now Utah narrowed Washington's lead by just two points.
The game ended with a score of 28-33 a tough loss for the Huskies. As it ultimately ended any chance the team had at winning the Pac-12 North. Washington's last game of the season is set for the end of this month on Nov. 29. At the Husky Stadium, the visitors are going to be the Washington State Cougars in what is predicted to be a close game.