"Abominable" – Not As Good As It Appears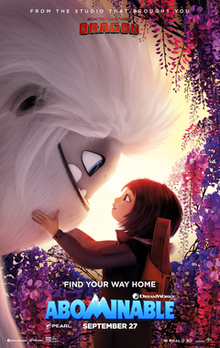 "Abominable" written and directed by Jill Culton, is the most recent Dreamworks Production movie that has caught the attention of many parents and children to watch for a family movie night. It illustrates the journey of teenager Yi who comes upon a Yeti, whom she calls Everest, on top of her apartment building. The movie goes on to describe the quest of her and her friends, Jin and Peng, to reconcile the creature with his family at the top of Mount Everest. The group, however, needs to stay away from Burnish, a man intending to capture Everest and zoologist Dr. Zara. Although the movie has received positive comments and has proven to be a family-friendly movie, some are not fully satisfied with the content. Overall, it proved to be a good movie to watch to pass time, but it may not be as original and unique as the internet initially described it to be.
In a review, a viewer states, "Despite some graceful images like a wave of flowers and a ride on a giant dandelion, "Abominable" lacks the personality to distinguish it from superior animated films that cover most of the same ground." He goes on to compare the movie with other scripts such as "How to Train Your Dragon" and "Kung Fu Panda."
Although the script has similarities with other movies, it has proven to be an entertaining pastime. At the beginning of the film, Yi is portrayed as a hopeful character, wishing to one day fulfill her father's plans of their family traveling across China. As the movie progresses, Yi develops a bold aspect of her personality. The plot displays a heroic journey of three children establishing an adventure to remember, allowing viewers to experience a story written with wonder and a magical touch, more than many anticipated.
All in all, it can be said that for the young and the old, this movie would be an engaging family outing. Despite correspondence with other children's movies, it is a delightful watch, with or without family.