Rising Tensions Regarding Controversial Bill in Hong Kong
On Sept. 4, 2019, tensions were high in Mainland China. On one hand, protesters still filled the streets, armed with signs and masks, as well as hard hats and makeshift shields. On the other, the police and legislative sectors of the government were able to partially relax after almost three long months of large, spontaneous protests. The protests have been slowly declining in participation, but unfortunately, increasing in intensity.
It all truly began way back in March 19, 2019 when a bill was proposed. Not just any bill, but the Extradition Bill. It meant that people in certain parts of China, Taiwan, and Macau awaiting trial could potentially be sent to courts in Mainland China rather than their own, familiar, local courthouse.  Understandably, the people everywhere were upset about that, but nobody was angrier than the citizens of Hong Kong, where the government headquarters are and where Carrie Lam, the chief executive, resides. She hasn't been nearly as involved as the people wish she was, but having her job and pleasing the country is no easy feat. She's already been  under great public scrutiny for a while: seen as unfit to lead, especially in a position as socially perilous as this. James Griffith of CNN says, "It's a wonder anyone wants the job.'
Hong Kong has been having a drawn-out leadership crisis ever since the 1997 handover of the major city, Hong Kong, to the rest of China. Most Hong Kong residents don't identify themselves as Chinese. The fairly recent changes have further alienated the 7.4 million residents of the city from the government and the condolences from their executive. The job as chief has been difficult by design. The chief executive, Carrie Lam, is being pushed in on two sides: one being the public, at the ready to protest in the streets, and the other being the over-protective one-party government. In the years since Britain handed the city over to Chinese rule, no chief executive has lasted more than two terms. Lam does not look to be any different. She is not looking to resign, but she certainly is not looking to seek another term in office, and it is predicted that she will get much more done in this final term. CNN says, "When she took the job, Lam struggled with a public perception that she was aloof and out of touch. Now her legacy is doomed to be far worse: the leader who fiddled while Hong Kong burned."
The government has taken responsibility for the nearly four months of chaos and turmoil in the country, and has added that rather than to help stop it, they've only continued the protests and hatred of the government. This Monday ushers in the sixteenth week in which the people of China have been on the streets, marching, loudly sharing their protests, and burning things down, including barricades and the red and yellow flag of their home country. It has been a little bit less than a month since Lam has withdrawn the bill, but the people now have five demands: one, the bill must be withdrawn, two: the chief executive must resign, three: the government must retract its characterization of the violent protesters on police clashes as "riots." Four: there must be a full independent inquiry into the actions of the police against the protesters. And last but definitely not least: five: everyone arrested in respect of the clashes must be unconditionally freed. Some of these demands are more far-fetched than others, but the people certainly will not back down.
As protests enter their sixteenth week, they have been decreasing in number and increasing in intensity, with the targeted locations being shopping malls, subway stations, and the international airport, which had all flights cancelled for two days due to the chaos. While the malls did not have to be closed, the protests began as a light-hearted conga line around the central area, and soon escalated into graffiti on storefronts and fire hoses being unleashed onto the marble floors and escalators. Subway stations have also been heavily targeted, as well as Old Town Plaza, where the activists burned barricades, overturned trash cans, and threw the Chinese flag into a nearby river after burning and vandalizing it. The police had remained surprisingly patient, lenient, even, until this point. Now, the riot teams and certain police units have been arresting everyone they can, including impartial medics who skirt the perimeters of crowds to help the injured and do not participate whatsoever. The riot police have begun to fire beanbag rounds onto the crowds and in retaliation, the protesters have thrown petrol bombs, set barricades, benches, and city shrubbery on fire. They heavily vandalize metro stations and other public places with spray paint, posters, and stickers as their desired weapons. Others carry bats, batons, and metal rods to ward off anything- or any police- who might stand in their way.  Children and high school students have also become involved, such as a 16 year-old named Jim. The son of two medical professionals, he has been attending school to become a doctor. A demonstration, he thought, would be a good opportunity to put some first-aid training to use.  Jim ended up spending more than three hours treating the injured and said that what he saw changed him. Thousands of young adults like Jim have been among the front lines of protests ever since they began in 1997. Jim said that the protests were a turning point in his life. "It wasn't enough to just administer first aid."
While the bill, the main cause of this whole fiasco, has already been withdrawn, the issue is certainly not over, and most likely will not be for months. The political, legal, and social unrest might last for years to come, and for now we might just have to hold our breath with the rest of the world to find out when this will all simmer down or finally come to a much-needed turning point. For now, it is all we can do.
About the Contributors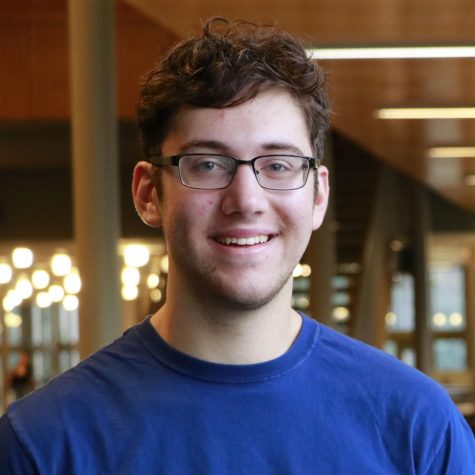 Ben Eskenazi, Illustrator
Class of 2020, first-year-journalist, artist and graphic designer primarily using Illustrator over Photoshop. Track champion who can't run. Secretly...