Taylor Swift's "ME!" Is a Positive, Pastel Palooza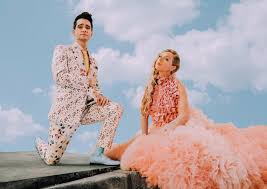 Hang on for a minute...we're trying to find some more stories you might like.
After 13 days of glittery pink Instagram posts, Taylor Swift dropped her much-anticipated single and music video off of her upcoming seventh album: "ME!" The April 26 release signified a stark departure from Swift's previous album "reputation"–no more dark colors or snake imagery. In fact, the video opens with a pastel pink snake transforming into a group of butterflies.
"ME!" and its accompanying music video perfectly complement each other. Both are bright, uplifting, and a bit childish (Swift even sings "Hey kids! Spelling is fun!"). Go-go boots, unicorns, kittens and pastel colors galore showcase that Swift has truly left her reputation behind her and is ready to embrace the carefree, whimsical side of life.
A duet with Panic! At the Disco's lead singer Brendon Urie, "ME!" is the celebration of one's individuality, with lyrics such as "I promise that you'll never find another like me," "But one of these things is not like the others," and "I'm the only one of me/Baby that's the fun of me," showcasing why everyone should own their uniqueness.
The music is upbeat, featuring a strong, marching band drum presence, trumpets, synthesizers, and both Swift's and Urie's vocals blend well together. It is trademark pop–and that is what makes "ME!" unrepresentative of its 'stand out from the crowd' message. Swift's past best work includes lyrics like, "You call me up again just to break me like a promise/So casually cruel in the name of being honest" from "All Too Well." On the other hand, "ME!" includes lyrics such as "You can't spell awesome without me." Praised as a songwriting force of nature, Swift delivers an underwhelming song lyrically.
While "ME!" is not groundbreaking or particularly inventive, it is catchy, and even if it is not genius, Taylor Swift returns with another chart-topping hit.