The Final Table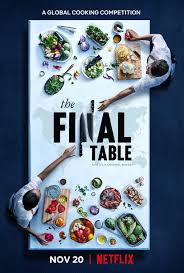 Pleasant videography, intriguing chef backstories, delicious food, and multiple Michelin stars, Netflix original series "The Final Table" brought a multitude of entertaining and action packed cooking that left me inspired to become a master of the kitchen, and reinstated my intrigue with creative cuisine.
"The Final Table" first caught my attention when almost my entire friend group spent 30 minutes raving about who had won, and how amazing the show was. Admittedly not a fan of cooking shows, I gave very little thought to giving the show a chance, but time after time of hearing how much they had loved it eventually broke me down, and I started the series. Episode one had me hooked, and one week later I had completed the entire show. The show features 12 teams of two, who did not all necessarily hail from the same nation as their teammate, many with at least one Michelin star, competing for nothing other than the title of winner. They are judged by celebrities, food critics, and some of the best chefs in the world. They then cook a dish reigning from the judges' native country. All of this is comes with detailed, interesting backstories of each chef in the competition, many of who have learned to cook in interesting ways, and how they received their accolades. I was particularly interested in the cooking techniques utilized by the competitor from New Zealand, as she used holes in the ground to smoke and bake various ingredients. Some may have had issue with these, thinking they stole time away from the actual cooking, but I found them to be nice breaks in the stress of the competition, and they created a bit more of a personal connection to each chef, making me more invested in who won.
Beginning with the filming and imagery, this show presented colorful, high budget backdrops, lit up maps, and every moment was pleasing to the eye, with all the food presented and plated stunningly. I always appreciate a garnish of edible flowers, which there was certainly no shortage of within the entirety of the show. The layout of the cooking stations, the overhead shots, and the "pantry" that stored all the ingredients were all clean and nice looking. Additionally, the judges even got overhead views of the chefs at work, as they sat on an adjustable, rising platform. That being said, one could argue that it was all a "bit much" for a cooking competition, if you are not particularly a fan of the more dramatic displays.
In my opinion, casting is where the show began to falter in impressiveness. Meant to be a global cooking competition, diversity was disappointingly sparse. There were only about four women, and a disproportionate number of chefs were white men, including (spoiler warning) the final four all being white men. In addition, the host looked like the 3D printed representation of  a "generic American man." That may be a personal opinion though, as he kind of freaked me out. That being said, I was a very big fan of the pair Charles and Rodrigo who brought some very exciting and sustainable twists to their cuisine. I greatly appreciated how they thought outside the box and brought the unexpected in most rounds whether it was hit or miss.
It was very interesting to watch the different groups blend their traditional, national foods with each other and the country they were given to prepare a dish for. However, I did feel that the nations chosen could have become more diverse. There was not a single dish originating in Africa or the Middle East to be prepared, and the grand, most dramatically presented country chosen was France, which though I do enjoy and respect French food, I found this to be painfully predictable. It would have been nice to maybe see some less common nation's cuisine represented for another challenge. Additionally, for the United States, the first round judges went as far as to declare Thanksgiving dinner as the meal to be prepared. I am not sure how I feel about this, because although I do love Thanksgiving, it is a once a year food for most of us, hardly the most representative of the U.S.. They made a bold move, to say the least.
The finale was where this show began to grind my gears a bit. I was shocked, and not in a positive way. First of all the winner was a rather bland man, who showed some skill, but nothing particularly interesting to really sweep the judges off their feet. And after an only decent performance in most challenges, he somehow managed to take home the crown with a piece of lack luster fish. I have no doubt that the fish was delicious; however it presented almost nothing original or creative, as his competition managed to combine flavors from all around the world in a creative blend that still tasted amazing (or so the judges said). In my opinion, it would have been nice to see the crown go home with someone who went outside of the box and took a few risks, considering the weight of the title they would receive.
This show was quite good in many, many ways; however if I choose to be a bit nitpicky, I found issue with the continual hyping of its identity as a "global" competition. To be fair, maybe the show did the best with what they could get, not able to get a hold of more diverse chefs or judges. It definitely had more diversity than the average cooking show; however, I think there is still a long way to go in branching out into various, less popularized nations, in both casting and cuisine. Possibly in seasons to come there will be a growth in this diversity, and I am very excited to see the next season. I also found issue with how hungry it made me. I am sure I will be forever dreaming about trying everything in the "Mexico" episode.