Abigail Lee's Red Carpet Takes: Oscars 2019
Fashion is one of my favorite forms of expression. I love this idea that what you wear is a blaring body billboard which displays to the world the parts of your identity that you want to be seen. It is a simply straight-forward and beautiful part of life that shapes our society, and I aspire to delve into it as deep as I can.
As we have arrived into this lovely year of 2019, I can not  help but feel that many mainstream celebrities have lost their risk-taking fashion senses. Of course, not every award show is the Met Gala, but considering the amount of prestige (and money) one would have to be attending the Oscars, straying from the traditional sense of formal wear would not hurt. That being said, after evaluating the 2019 Oscar runway, I have picked a selection of my personal favorite looks and collected a few trends I saw.
Personal Favorites
I am certainly not an expert on fashion or design. I just have a strong interest in it. I am definitely not the most knowledgeable voice on the subject, but for a moment now, on this Issaquah High school digital magazine, let us pretend that I do know everything.
Candy Colors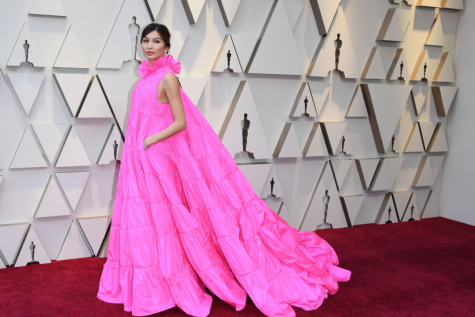 Gemma Chan: In a blaring hot pink Maison Valentino dress, Chan looks casually breathtaking. A worthy oxymoron for this fit, Chan carries herself with such grace and ease in a dress that few could pull off. With a silhouette reminiscent of this year's Paris Fashion Week runway by Viktor and Rolf, Chan pulls eyes and cameras towards her, making this look one to remember.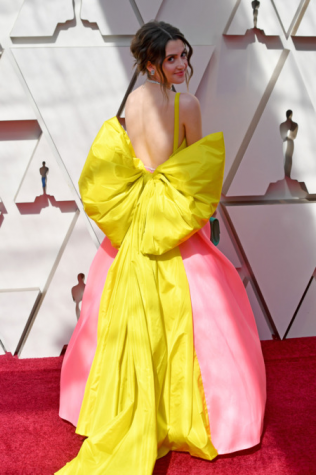 Laura Marano: The last time I had thought of Laura Marano was when I was probably 12 years old for her role as "Ally" in the Disney show, "Austin and Ally." So I am definitely pleased for her to reappear in this Celia Kritharioti design. It is flirty and cute while still maintaining a regal sense of red carpet flair. I love the colors, I love the shape, and I love that giant bow. It is Hello Kitty chic and definitely a fit worth praising.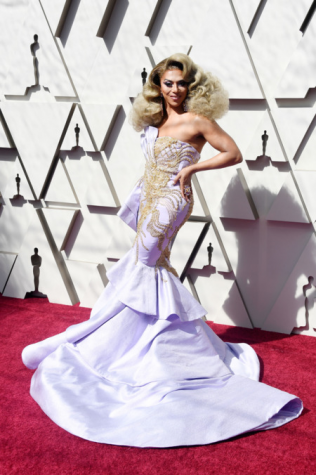 Shangela: A custom design by Diego Montoya looks absolutely perfect on Drag Race contestant Shangela. Bringing in traditional glamour with a modern pageant-esque flair, Shangela looks Barbie doll beautiful. The makeup compliments the hair, the hair compliments the dress, and overall, this look is put together and just works so well on the red carpet.
Penguin Couture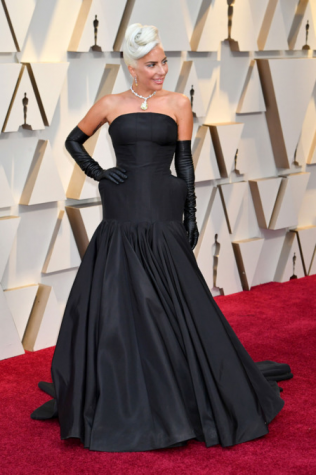 Lady Gaga: Channeling Audrey Hepburn and looking absolutely amazing in every way, Lady Gaga came to the awards wearing this Alexander McQueen gown with a Tiffany & Co. yellow diamond. Lady Gaga shows how to work a dress that may not appear to be as "eye-popping" as most by embodying classic beauty and iconic aesthetics. The black gloves and the diamond necklace paired with the curve of hip on the dress, this entire look leaves me with tears in my eyes and an inspiration to the type of dresser I wish to be one day.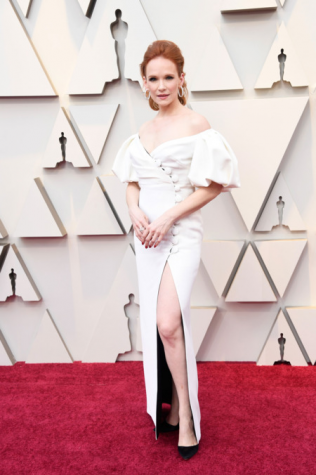 Marianne Farley: I know that this opinion may be a bit controversial, but I genuinely love Farley's dress. The white blouse-puff type sleeve and with buttons trailing down to the side remind me of a 1900s scientist-esq vibe, which is coincidentally a personal aesthetic I enjoy dabbling in. I think the unique way it is draped on Farley is lovely and reminiscent of clouds or like those folded napkins they sometimes have in restaurants. Bottom line, I enjoy the look and personally, would love to be able to wear a dress like that someday.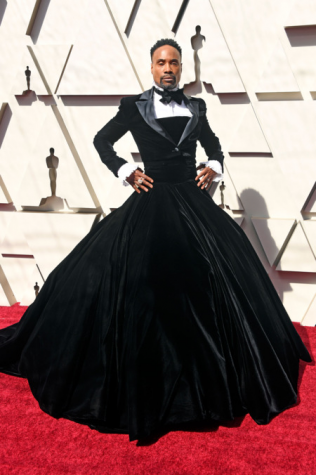 Billy Porter: The first time I laid my eyes upon this image of Porter's Christian Siriano designed tuxedo dress fusion, I knew that this was the look of the Academy Award red carpet. This show-stopping combination of traditional masculine and feminine in a plush velvet truly is a one of a kind design. The black of the dress spreads out beautifully while the tuxedo top maintains figure and shape, almost like a makeshift silhouette corset. I highly recommend reading or listening to interviews from Porter on why he chose to sport this dress to the awards show. In an interview with Vogue, Porter says, "This industry masquerades itself as inclusive, but actors are afraid to play, because if they show up as something outside of the status quo, they might be received as feminine, and, as a result, they won't get that masculine job, that superhero job. And that's the truth. I've been confronted with that."
Trending on the Red Carpet
Considering how many looks were on the red carpet the night of the Academy Awards, it is impossible not to see trends or patterns. Here are some of major ones I noticed:
Hot Tulle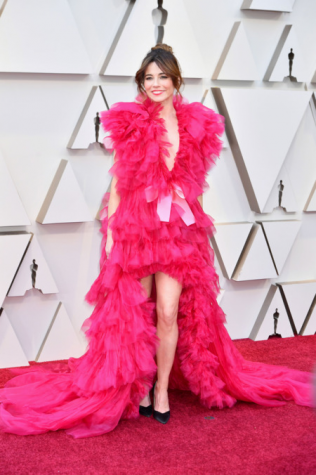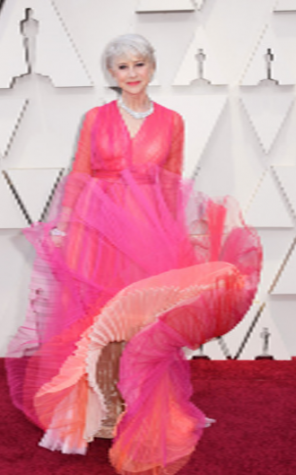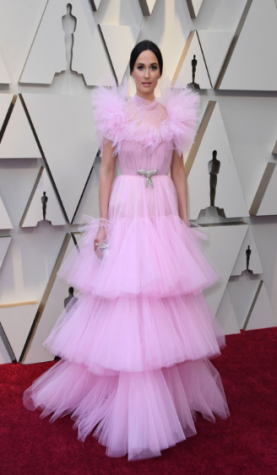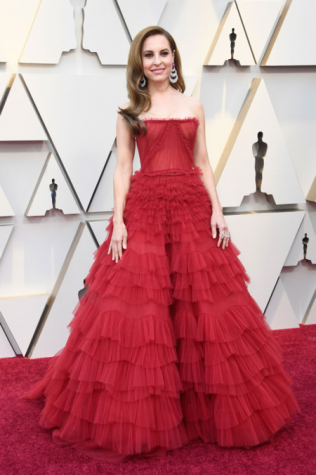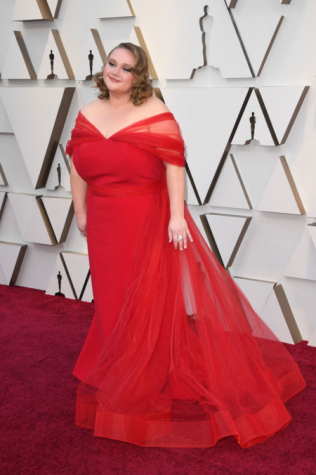 Something's got the Oscars blushing and flushed! The night's award show was definitely not skimping on its pinks and reds, and definitely not on its use of tulle. This sheer fabric was seen everywhere, from tutu style ruffling to sheer wisps of color in the wind. Could this common use of blush and tulle possibly predict the revival of ballerina-esq fashion? I, for one, definitely hope so.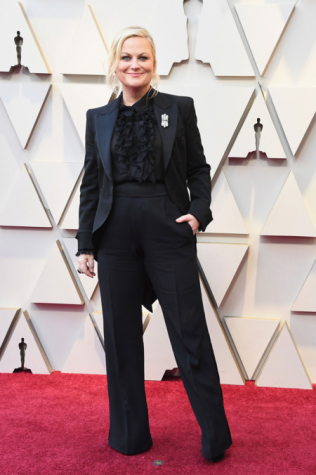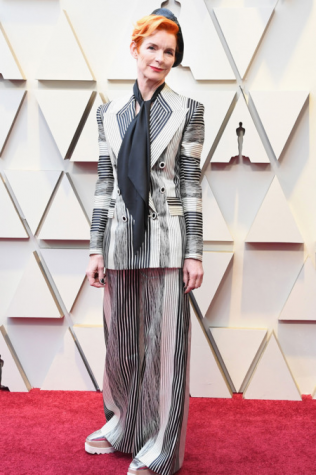 Pantsuit Party
I would not say that pantsuits ever went out of trend in the first place, but with modern ideas of androgynous fashion beginning to hit mainstream tastes, this classic form of "gendered fashion" bending takes a revival at the Oscars. One of my favorite examples from the night was Elise Fisher's suit with the combo of a thick eyeliner and bangs clipped to the side. Not only did she appear professional and sleek, but she heavily reminded me of "Margot Tenenbaum" from the Wes Anderson movie, "The Royal Tenenbaums."
Velvet Tuxedos with a Twist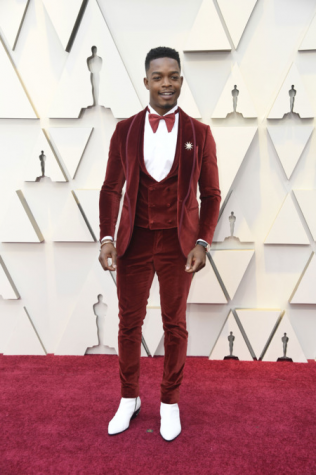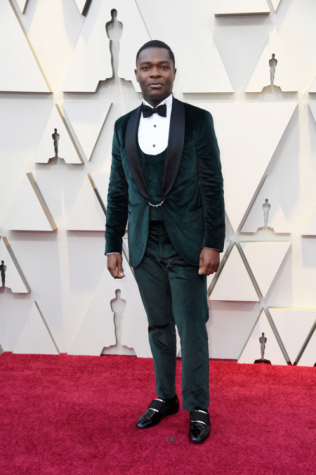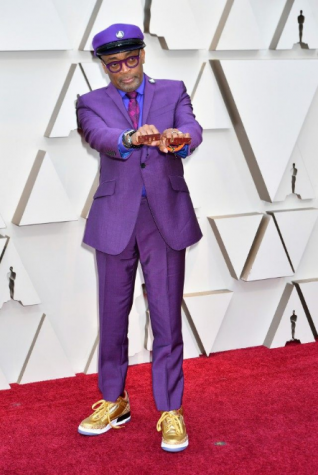 I have always had my share of frustrations with typical male fashion when it has come to award shows. Often, it just feels like the same design, repetitive, over and over. I mean, how often can someone see the same black tuxedo with white accents? This year, I would not say there was necessarily a higher number of eye catching suits, but the ones that did felt solid and refreshing. Not included in the velvet color tux club, Spike Lee's monochrome purple fit was actually very nice to see amongst a sea of formal penguins.