Brexit's Impact on the Premier League
Hang on for a minute...we're trying to find some more stories you might like.
Brexit, a combination of the words British and exit, is an event in which the United Kingdom will separate from the European Union. The largest reason behind the UK's decision to leave is due to immigration. Since 1994 the UK's foreign-born population has more than doubled, going from four million people to over eight million people. This large increase in immigration, from both European and Non-European countries, has harmed the British economy because of an unemployment increase in the countries. On June 23, 2016, the citizens of the United Kingdom voted in favor of leaving the European Union with a vote of 51.9 percent supporting the decision and 48.1 percent against the proposition. While this does restrict immigration laws upon those entering the United Kingdom, it also affects those leaving it and the products the United Kingdom can sell. However, when diving deeper into the matter, one of the United Kingdom's largest economic sources, the English Premier League, will be significantly hurt by Brexit. The English Premier League is England's highest division of soccer. The best teams in the country play in this division, clubs like Manchester United, Liverpool, and West Ham United, and how those clubs function daily may be permanently affected if Brexit were to occur.
Before stating how I believed Brexit would impact the Premier League, I asked everyone I interviewed how they thought the Prem would be impacted. Freshman Libby Yoon imagines that "due to the UK splitting from the European Union, the Premier League may not be as strong in terms of teams." Sophomore Aidan Howard was on the same page as Yoon, saying that due to more strict immigration laws there may be "fewer foreign players" in the Premier League. Senior Elodie Hutson took a different stance on the matter. She believes that the Premier League will suffer because they will "lose money, based on the economy, the jobs, and the ticket prices."
Only 33 percent of the players in the English Premier League are British, which means that 67 percent of the players are foreign born. One of the most important things in modern day soccer is how clubs utilize the transfer window. Players "transfer" from other clubs around the world, or in the country, to a larger or smaller team. There are two kinds of deals that can occur: loan deals and permanent transfers. Loans are where a player will go to a club for a designated length of time, and then return to their parent club after that time period is over. Permanent transfers are when a player permanently moves from one club to another for a specific fee and or player. Brexit will impact a club's ability to bring in other foreign players from different clubs, as a work permit will be much harder to acquire and fewer players would move to these large English clubs. The inability to bring in foreign talent will hurt the English clubs both in the quality of their team and the revenue they could have made off of a certain marquee signing. While the ability to get into Britain will be much harder, foreigners leaving is still a much easier thing to do. This indicates that players will not be able to get into the country, but the ones currently in it will be able to leave, which hurts all involved with English Soccer.
General stances on immigration is what makes this topic so controversial. Junior Jenna Wisler believes, "Immigration can be a good thing; however, it should be legal immigrants only and controlled." One of the morality issues regarding the English Premier League's involvement in Brexit is how potential Premier League players would be treated in comparison to average immigrants, whether they would be treated the same and go through the same rigorous process, or if they would be given special benefits. Junior Nihal Sathi states that "they probably should be, but they won't due to their economic and social status."
One of the benefits to Brexit, however, would be the development of the English National Team. While England placed fourth in last summer's World Cup, they still have a very young and talented squad, poised to making a run at the EURO 2020 trophy. The absence of foreign players in England's top leagues would allow the younger players, who may not have gotten to play due to more experienced players, a chance to play at the top levels and develop into stars. Due to Brexit, the English National Team would soar to new heights, at the cost of the quality of the Premier League.
Following the first referendum, Brexit has become a meme on what people call "Football Twitter." Many people refer to certain English players as "Brexit," as they represent stereotypical people who voted for Brexit, both in terms of their actual political beliefs, their looks and how they play. Senior Gage Howard states that he believes the most "Brexit soccer player" is Mark Noble, captain of West Ham United. Howard says, "It has to be Mark Noble. With his beautiful passes and intense two footed tackles, he reminds me of a prime Xavi."
Brexit impacts the world both politically and economically. Out of the eight Issaquah High School students I interviewed, only four of the eight had heard of Brexit before. After being filled in, two out of the eight said they were for Brexit, one of the eight stated they still did not have enough information, and the last five said they were against Brexit. Sophomore Michelle Kane said, "my stance on the topic may change due it directly impacting myself."
Brexit is an event in which the United Kingdom separates from the European Union and it will have both positive and negative impacts on the British economy, causing drastic changes in how their society will function. The Premier League will be one of the casualties of Brexit as clubs will be significantly more restricted in how they are able to act when it comes to acquiring new players, while the English National Team may prosper. Nothing is guaranteed, but all we know is that the world of Soccer will be changed dramatically if this were to happen.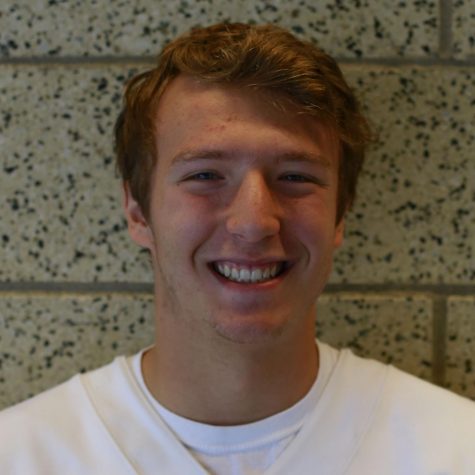 Ian Anderson, Staff Writer
Class of 2019, self-proclaimed professional FIFA and Rocket League player, avid Game of Thrones, Harry Potter, and Lord of the Rings watcher/reader. Food...
Mimi Gaudiano, Illustrator
Class of 2019. Long time artist, first time journalistic illustrator. Grade 'A' Disaster Gay. Owner of a wandering mind (if found please return to...