6ix9ine's "DUMMY BOY": A Culmination of Controversy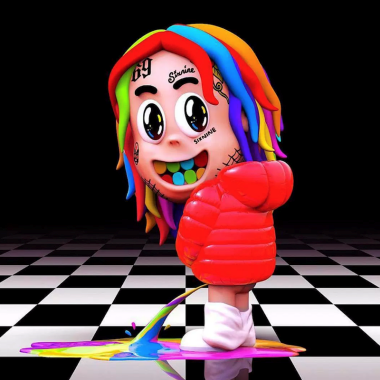 Hang on for a minute...we're trying to find some more stories you might like.
New York rapper 6ix9ine was set to release his first full-length album on Friday, Nov. 23rd, coming seven months after the release of his first project, "Day69." Unfortunately, in the days leading up to his album release, 6ix9ine was charged with several federal crimes, including racketeering and multiple firearm-related charges, which could have him spending a minimum of 25 years in prison. Daniel Hernandez, who goes by the stage names of Tekashi69, Tekashi, or most commonly 6ix9ine, burst onto the rap scene in late 2017 with his rainbow hair and face tattoos. His unorthodox, aggressive style of rap allowed him to further stand out from other rappers. After the releases of several hits such as "GUMMO" and "FEFE," 6ix9ine had established a name for himself in mainstream hip-hop, and sought to remain in the spotlight with the release of his new album: "DUMMY BOY."
Upon his arrest on Nov. 20th, 6ix9ine suspended the release of the album, with his affiliates writing the following on his Instagram page: "Due to circumstances beyond our control we have postponed the release of Tekashi 6ix9ine's 'DUMMY BOY' until further notice." Although Friday passed and there was no album release from the rapper, the project appeared to have leaked online, forcing 6ix9ine's team to officially release the project. This may serve harmful to Hernandez given his current legal situation, as any lyrics from this album may be used against him, but since it has arrived, it may as well be reviewed.
"TATI," "FEFE," "BEBE," and "STOOPID" were all singles prior to their feature on the album, with the first and last featuring his trademarked abrasive, shouting style of rap, while the other two have a more chill vibe. "FEFE" was the hit that propelled Tekashi into stardom, peaking at No. 3 on the Billboard Hot 100. Meanwhile, "BEBE" peaked at No. 1 on the Latin Billboard Hot 100. All of these songs are highlights of the album, which is probably the reason they were all released as singles. As for the songs on the project that were not singles, they are mostly forgettable, with a few exceptions. "KIKA" featuring Tory Lanez and "MAMA" featuring Kanye West and Nicki Minaj are two other good songs on this album, but this is not attributed to 6ix9ine's performance on either. On both of these tracks, 6ix9ine is outshone by his featured artists, which serves as a model for the album as a whole. Also, all but one song on this project includes a feature of some sort, and most of them are very hit or miss. "WAKA" featuring A Boogie Wit da Hoodie is probably the track that is the worst in terms of collaborations, as A Boogie and 6ix9ine have little to no chemistry, and it almost sounds as if the artists were trying to go in two completely different directions with the track. "FEEFA" featuring Gunna is another lowlight, and is probably the worst song on the entire album. Both 6ix9ine and Gunna rap in such a quiet, boring, and unoriginal style that it makes the track hard to listen to.
Hernandez's fame has been coupled with controversy for the entirety of his career, and much of his fame and success in music can be attributed to his social presence. In my eyes, 6ix9ine is more of a personality than an artist, as there is nothing particularly compelling about his music. Sure, he has a unique shouting style of rap and solid beats, but his ability to catch a headline is truly where his fame lies. As of late, these headlines involve his recent arrest, and his career is certainly in danger with a federal case of this magnitude hanging over him. Many believe that these charges may just be a hoax and purposefully put in place as propaganda to hype up his album release; however, it is improbable that this is the case. If "DUMMY BOY" is in fact the last we hear from the Brooklyn rapper, I cannot say I was blown away.