Joyner Lucas: A Rapper for Society
Hang on for a minute...we're trying to find some more stories you might like.
Have you heard of rapper Joyner Lucas? Probably not, but if you value lyricism in rap his records are worth a listen. From a young age Lucas was producing music and releasing hip hop bangers from his home in Massachusetts. Lucas began mixing and producing with his uncle as a hobby in his free time. Loving what he was doing, Lucas began to seriously break into the music industry.
In 2015 Lucas released his first real hit, "Ross Capicchioni," which recounted a near-death event of a teen from Detroit, from the perspective of the victim and the shooter. The song and music video were comprehensive depictions of the horrific event that took place in Detroit. In the song you hear Lucas rap about the situation all from the victim's perspective and then he progresses to rapping from the attacker's perspective. Lucas has a unique way of telling stories which sets him apart from other artists I have listened to, as he really makes you feel as though you are in a moment. In this story he tells through rap you really begin to understand both sides of the incident and even realize the reality of the attacker, not just the victim. The song and music video went viral on their perspective platforms and Lucas gained a massive audience. However his name still was not mainstream.
Following his first single hit, Lucas produced further records and ended up signing to Atlantic Records in 2016. In 2017 he released his first album for Atlantic called, "508-507-2209," which had a variety of songs, each speaking on real-life events or lessons. Hits from the album include songs like, "I'm Sorry" and "Winter Blues," which were my two personal favorites. He also released "I'm Not Racist," which discussed racial issues of today with rap. The song and music video went viral, portraying a typical white male and black male talking about problems with the other side, and finishing by understanding the reasons for each other's statements. The video was immense, capturing the life of two polar opposites in our society today and rivaling their logic. It was incredibly written and accurately represented the problems in our society today between races.
Recently, Lucas released two more hits; including "Stranger Things," which was heavily inspired by the "Stranger Things" Television series on Netflix, and his song "I Don't Die." As Lucas grows in popularity, his music still talks about controversial issues in society. However in newer songs like "I Don't Die," Lucas writes about haters and addresses them for hating on him as he progresses, since he is slowly creeping into the mainstream. Although the rapping is some of the best I have heard from Lucas, he seemed to stray away from his usual lyricism in these two hits.
As well as creating his own music, Lucas has featured on tracks of several big name artists. The main feature of recent memory was on Eminem's new album "Kamikaze" where Eminem and Lucas teamed up to develop the hit "Lucky You (feat. Joyner Lucas)," which reached the top of the music charts and became one of Eminem's biggest hits. Joyner Lucas has been the industry for some time and has never really reached the mainstream with his work. I would highly suggest a listen to some of his hits and to listen to his feature on the Eminem track if you have not heard it yet.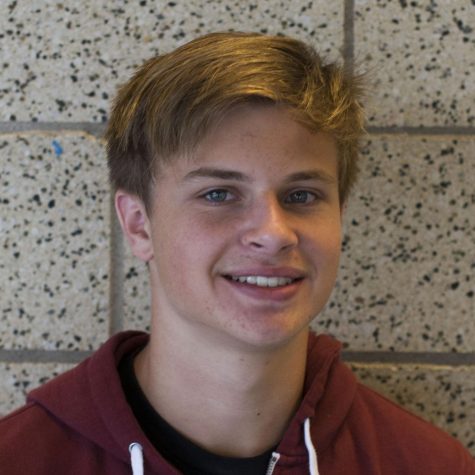 Gavin Herman, Staff Writer
Class of 2019, first year journalism writer. Varsity student-athlete and footballer, like the football the British made. Incredible attention to detail....