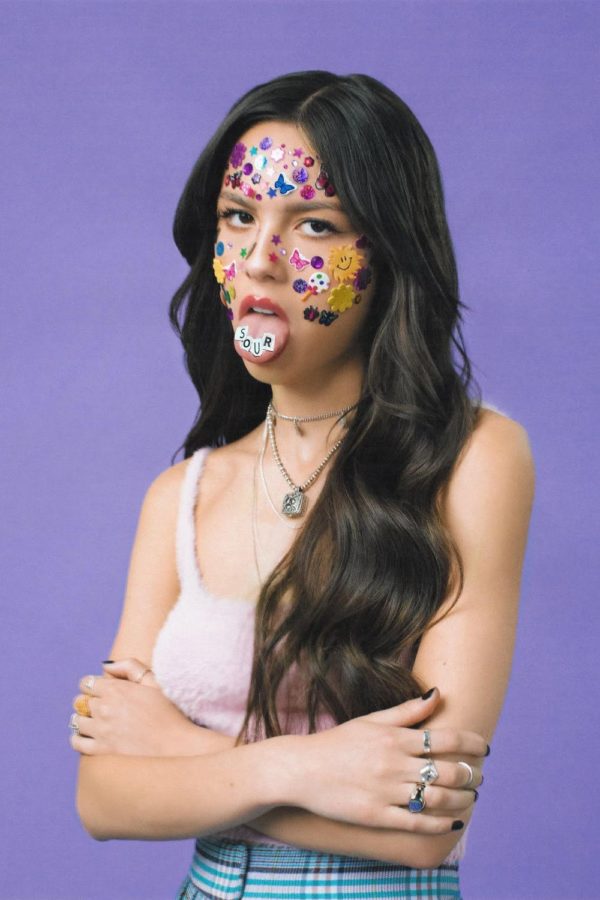 Unless you have been living under a rock for the last six months, you have probably heard of 17-year-old rising pop star Olivia Rodrigo. The younger half of my generation knows her from her time on Disney Channel, most recently, "High School Musical: The Musical: The Series", which premiered in 2019 and just released a second season in May.
However, Jan. 2021 was the first time she struck out on her own, independent of the Disney label, with her debut single "Drivers License." An atmospheric ballad with roots in indie pop, it was immensely popular. It topped the US Billboard Hot 100 for eight weeks, making it the longest running debut single at number-one, and making Rodrigo the youngest artist ever to debut at number-one.
The song is not exactly earth-shattering – but it is pretty good. The first time I listened to her subsequent debut album, "Sour", however, my earth actually did shatter. "Sour", released May 21st, has eleven songs, three of which were released as singles before the release of the album (including "Drivers License"). The album is a mix of indie pop, indie folk and singer/songwriter, and alternative rock, namely pop punk, and touches on subjects like heartbreak and general teenage angst.
As a junior in high school who turned her back on the corny and juvenile nature of Disney Channel and its stars back in early middle school, I went into the album with certain reservations. I expected it to follow the styles of other past child-star Disney musicians; sunshine-y pop music revolving around teen romance and having a good time. "Brutal," the leading and fifth-most streamed track, grabbed me by the arm and yanked me out of that mindset.
As a fan of alternative rock, "Jealousy, Jealousy," "Brutal," and "Good 4 U" are my personal favorites (in that order), but she also has some noteworthy, beautiful ballads, like "Traitor" and "Happier". On that note, I am also very excited about this album because it has successfully managed to bring alternative rock back into the spotlight (if only for a few months) for the first time in nearly two decades.
Both "Jealousy, Jealousy" and "Brutal" function as social commentaries, with "Brutal" focusing more on the abstract theme of teenage discontent and insecurity, and "Jealousy, Jealousy" addressing the feeling of inferiority Rodrigo experiences when comparing herself to her peers on social media. The cynical, candid, and unruly tone of her voice, paired with lyrics like "I'm so sick of seventeen, where's my f***ing teenage dream?" and "I see everyone getting all the things I want; I'm happy for them, but then again I'm not" make for defiant, in-your-face masterpieces. "Good 4 U" is also loaded with sarcasm, but is instead directed at a boy who has moved on from their relationship with stinging ease.
Again, when you compare her lyrics to the lyrics of other Disney star pop songs, there is a clear difference. For example, you take "Party in the USA," written from the perspective of carefree, rich teens living it up and you compare it to "Jealousy, Jealousy," where Rodrigo is relentlessly pining for that lifestyle. They are complete opposites, and truthfully, I love it. Rodrigo's music feels far more real and personal, and less produced.
I keep comparing her music to other child-star music because, as much as I like to scoff at that brand of music, the fact is that it often ends up being mainstream and being listened to by a lot of people, especially children. What a massive cultural 180 "Sour" is from the message that was being pushed out just five, ten years ago. And of course, Rodrigo does not represent all contemporary child stars, but it is interesting, nonetheless.
Now, she has not completely abandoned her Disney roots – in pretty much all of her songs, at times her tone is reminiscent of the kinds of performances you expect to hear in musicals. This is especially noticeable in the verses, which are often less melodic, and instead have more of a spoken-word sound. As someone who usually finds this kind of singing annoying, I actually do not think this a bad thing. She manages to tone it down enough that it is not overwhelming, and it allows her to infuse a striking level of emotion and character into her tone, which really brings her music to life. She is singing, but she is also acting. For the record, Rodrigo also writes and co-writes her own songs – which is incredibly impressive considering how good they are. So, while she is "acting" in a sense, her songs are all written from her genuine, personal perspective.
All in all, this is, without question, the best album of 2021 thus far and probably throughout its entirety, and I would strongly recommend to pretty much everyone, especially lovers of indie music and alternative rock.