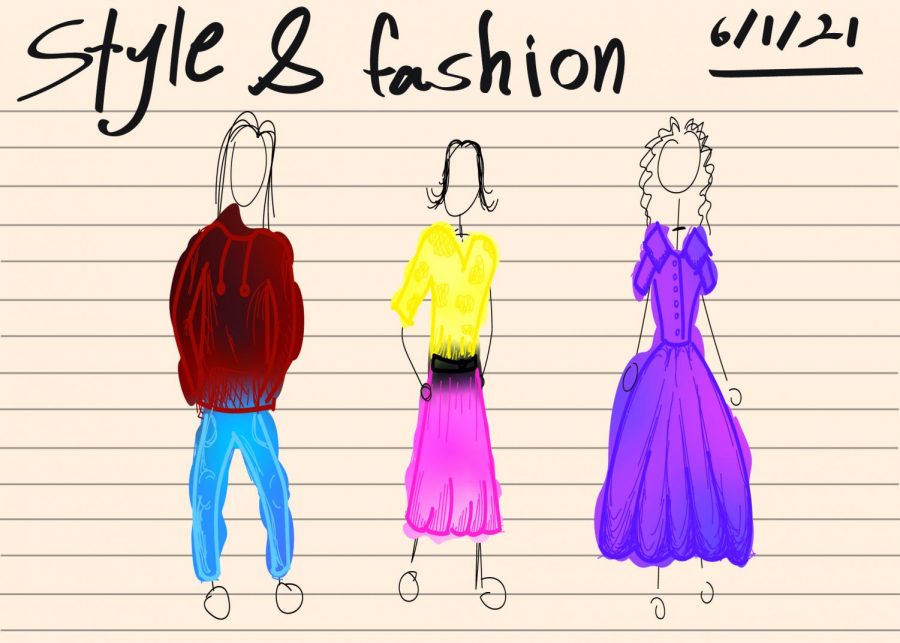 Matthew Chytil
Fashion is everywhere. School, work, on the streets, everywhere we go. People have their own sense of style that they express through what they wear and how they portray themselves to other people. Fashion is so varied with everyone's diverse sense of style and it can be so much fun. But why is fashion the way it is today? Why do things go in and out of style? Starting from the early '20s, fashion has been influenced by popular celebrities and circulated and transfigured until it ended up where it is today. 
During the Roaring '20s, the most popular thing in style was the flapper dress and the cloche hat. According to The American House, "Women paired these dresses with T-strap heels, pearl necklaces, and short, bobbed hair. These women are often remembered as Flappers." The dresses also usually had some form of collar, which was a staple of women's fashion in the 1920s. Some famous figures in the 1920s included Gloria Swanson and Coco Chanel, who greatly influenced fashion during that time.
The 1930s came around and the Great Depression hit. Despite the social economic trouble that society faced, this fashion era was quite extravagant and glamorous. CR Fashion Book states, "Hollywood stars were seen wearing long, backless evening gowns made of silk, velvet, or chiffon."  A favored accessory to match was a classic fur stole. Popular fashion influencers included Ginger Rogers and Joan Crawford. 
In the 1940s, women's fashion became more utilized and practical because it was created during war rationing. This new style embraced femininity, with rounded shoulders, shapely bust lines, closely-defined waistlines, slightly padded skirts, and full, billowing skirts that hung just below the calves. Favored fashion icons included Ava Gardner and Bette Davis. 
In rocked the 1950s, with poodle skirts, peter pan collar blouses, and kitten heels. Additionally, capri pants, the swing style dress, and retro style prints like polka dots were very popular. Pearls were also a very common accessory. Christian Dior, Marilyn Monroe, and Audrey Hepburn substantially helped shape '50s fashion. 
Time progressed into the 1960s and women's fashion was elegant but simplistic at the same time. The American House says, "Women's sweaters and shirts were also knitted and turtleneck style." More and more women began to wear pants that were high-waisted and had slim-fitted legs. During this time, low heels, flats, and pump shoes were also in style." Jackie Kennedy, the First Lady at the time, was a very famous fashion influencer. The pillbox hat that was her signature became a fashion phenomenon. Also, drainpipe jeans, babydoll dresses, and go-go boots. 
It was the hippie era of the 1970s and women's fashion bloomed with wild floral patterns, shift dresses, and jumpsuits. According to The American House, "Women during the 1970s wore granny-style or hippie-style dresses, bell-bottom pants, tunic tops, and graphic t-shirts. Many dresses now went only up to knee length. To the workplace, they would wear dress pants (or pantsuits) with silk-bow blouses and a blazer. Knit vests worn on top were also in high demand." Famous icons included Diana Ross and Twiggy.
The 1980s rolled around with its bright colors and funky hues. Fun patterns, shoulder pads, and wide leg jeans were quite common. CR Fashion Book says, "The 80s encompassed an era of a new generation of women entering the workforce in large numbers. This movement sparked the phenomenon known as power dressing, a.k.a. women adopting menswear styles in a feminine interpretation of a classic professional appearance." Shoulder pads were immensely popular and appeared on blazers and even dresses. The American House states, "For both men and women, the waistline of pants was high. A big staple of the 1980s was messy hair, neon colors/makeup, and big hoop earrings. Most of the 1980s fashion was bizarre in terms of the previous decades. Women could wear brightly-colored leggings paired with an oversized top or 'parachute pants' with a small v-neck top – all were in style!" According to Skyline sophomore Kaylie Chon, "My favorite decade of fashion was probably the 80s because it was so bright and looked comfortable." Some starlets who impacted the fashion force were Madonna and Naomi Campbell. 
It was the 1990s and grunge with a mix of chic and preppy was all the rage. Biker leather jackets as well as matching plaid sets courtesy of Cher from Clueless were very popular. "Mom" jeans, belted dresses, and graphic band tees were also trending. Famous fashion influencing celebs included Julia Roberts and Cindy Crawford. 
Skip ahead to the 2000s, and the style turned back to a more feminine and girly style with pastel color palettes, butterfly clips, and velour tracksuits. CR Fashion Book states, "It seems like just about every early 2000s celebrity had a few pairs of velour tracksuits a la Juicy Couture. Whether an heiress or pop star, young female celebrities popularized the low-rise pants often printed with "Juicy" across the back and matching sweatshirt." According to The American House, "Denim miniskirts, halter tops, low-rise jeans, and capri pants were what everyone was wearing." The early 2000s greatly inspired a very popular style that is trending today known as Y2K. Fashion icons included Britney Spears with her more girlish style and Avril Lavigne with her grunge and punk style. 
What about the 2020s? It is important to wear what you feel comfortable and confident in. Sophomore Camille Hofdahl says, "I usually dress more modestly because that's what I'm comfortable with, but I think people should wear whatever they want and not feel like they have to dress a certain way because of what others might think." However, dressing a certain way can determine how you portray yourself to the world. Sophomore Madison Nakano says, "I would dress formally if I wanted to appear more put together, but if I wanted to look comfortable, I would wear something loose and less put together." On that note, your clothing choices can also decide your appearance and what others may think of you, especially on a first impression. Chon says, "Of course the way someone dresses impacts their appearance (sadly). First impressions are important and it's usually based upon physical appearance (sadly)". 
Also, wearing outfits that make you happy can really boost your self esteem. According to sophomore Elise Ratzer, "The way I dress definitely Impacts my self-esteem. What I'm wearing, if I think I look nice, can give me a lot of confidence in my appearance and is a big reason why I love dressing up. It just makes you feel good." 
Style has evolved immensely in the last 100 years and it is still changing today. According to The Trend Spotter, "Bright colored checks are some of the latest trends to pop up in the fashion scene. This retro-inspired style is a cute way to brighten up your regular ensemble, and it's easy to work it for every season. We're bringing back the 90s and 2000s in a big way, so why not start with the large flower pattern we know and love? This iconic mod-inspired print is gorgeous and fashionable, meaning you can style it with almost anything and look adorable.This season is all about looking effortlessly chic and cute, which is the perfect reason to try pastel ensembles." Glamour says, "Sweet cropped cardigans—this trend looks just as cute with lounge-y sweatpants as it does with jeans or a midi skirt." Plaid "shackets", which is a combination of a shirt and jacket, can be worn anywhere and anytime. Additionally, a trending go-to accessory is a baguette bag, that is like a half-circle with a short strap. Perfect for carrying only what you need, which never felt more relevant.
It may take a little bit to find your true sense of style and express yourself through your wardrobe, but once you do, embrace it! Wear what makes you feel good about yourself and ready to take on the world.